While word games are generally all the rage when it comes to the mobile gaming scene, there have not been nearly as many intriguing number games. X-Match, not to be confused with the dating site of a similar name, is an answered prayer to those who wish to get their mathematical groove on with a fun, deceptively simple puzzle game.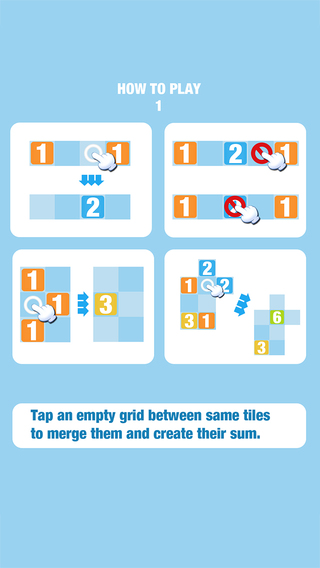 The object of the game is relatively simple. One-digit numbers appear on a grid, and it is up to the player to add them up. This is done by touching one of the grid's blank spaces. When this is done, the closest matching digits lying directly on the same vertical and horizontal lines as blank space that the player has pressed will be drawn to the selected square and added up to create a tile that bears the sum total of all numbers added (this isn't always possible, as there are some additional rules in play). Matching numbers whose lines intersect can also be added together. If the sum is 10 or greater, then it will appear as an "X."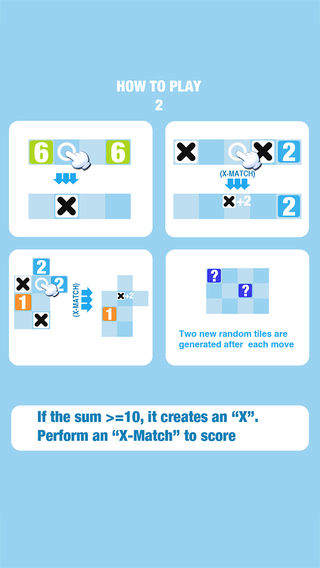 As one might surmise from the title of the game, the "X" is important. The object of the game is to get as many of these as possible. Whenever a player is able to combine them, they will get an "X-Match." They can continue to add these more and more, raising the score as they go along. The world record for the game's standard mode of play is 403.
It sounds as if getting a high score would simply take a great deal of patience, but this is not the case. In the same vein as traditional puzzle games such as Tetris, the player finds themselves with fewer available options as the game continues. The more moves a player has made, the more numbers will appear on the board every time. This can result in frustrating moments, as one may get that second X they need, only to have a 1 appear in between each X on the board.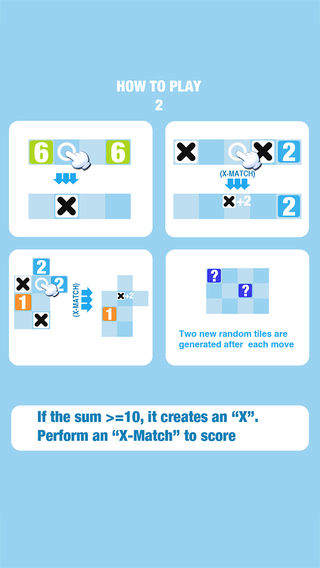 While such moments can be frustrating, they also add suspense to the game and make it more fun. Nothing makes you feel smarter than finding a combination of moves to clear large portions of a board that is nearly full. These moments, where one is able to achieve a high score despite the appearance that the game is nearly over, are what makes the game so addicting.
And it truly is addicting. After finishing a game, it's easy to get sucked back in by that lingering feeling that a higher score might have been achievable with just a few different moves. After scoring 20 for the first time, you'll want to see if you can score 40. After getting to 40, you'll want to see if you can break 100. Like all good mind games, every time you play is a slightly different experience. The result is nail-biting games spent wondering whether you'll top your high score or fall just 2 points short.
X-Match is a well-crafted game and is definitely worth playing. The only question is whether you'll be able to stop.
Worth Having Game – Download the Game