Want to celebrate the big bash event with your dear ones? then Video Invitation maker App of Inviter is best in creating stylish online Video Invitations for inviting. The best possible way to attract guest's attention is by sending exciting online Video Invitation through Inviter App. It's a wonderful mobile application for occasions like Birthday, Wedding, Engagement and many others.
Features of Inviter app:
An extensive wide variety of Video templates for Events like Birthday, Wedding, Baby Shower, Engagement, Naming Ceremony and many others
Upload photos, Music and text details as needed for template
Free preview video using your own photos, event details and music
Pay and download, once you are set with the preview video
Video Invitations with HD Quality
24×7 supporting through chat/email and phone
Share the invitation through WatsApp and different social platforms
Categories:
Birthday Party
Wedding
Engagement
Anniversary party
Baby Shower
Naming Ceremony
Arangetram
Puja Invitations
How to create an Online Video Invitation:
Go to Google Play store and download Video Invitation maker App of Inviter
Sign up /Register an account with Inviter
Pick a template that fits best for your Even
Upload photos and music of your interest
Make necessary changes in text details like Date, Time and Venue
Preview the video free before you download the final one.Once you set with the preview, pay and download HD video (No watermark)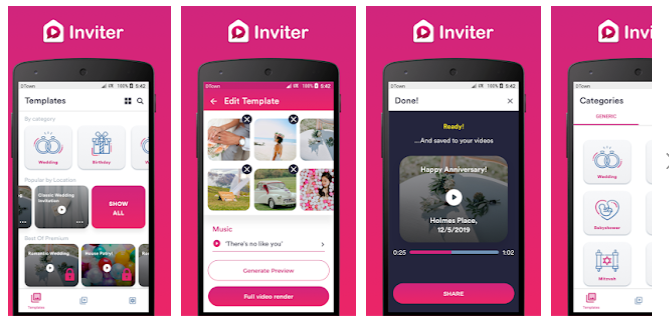 Video Invitation Maker App of Inviter is simple and a fast mobile-friendly application in creating video invitations in a few minutes. It's a perfect App for creating Video Invitations for many occasions. I would love to use and strongly recommend to use. Just try it out!
Summary:
Video Invitation Maker App of Inviter is a mobile application which assists you to create video invitations for different occasions in a few minutes with your own photos and music.
Features: 4.5
Accessibility: 4.5
Usability: 4.5
Graphics: 5
Worth Having App – Download the App – Developer site