Human race is the most intelligent and powerful race to be known. But actually we don't have any physical power at all. Dragons have always been seen as blowing fire out of their mouth. Look at the birds flying in the sky. Whenever their wings go through high speed waves, they fly high and high up in the air. They just make us feel helpless about our inability to do a physical task not entitled within our limits. But if you get the power to control the wind, what will you do? Of course there will be dozens of ideas going through your mind at the moment and most of them will be about flying with birds and there will be some destructive minds as well. But a squire had a completely different mission in hand when he got these powers. Let's take a look at what I'm talking about.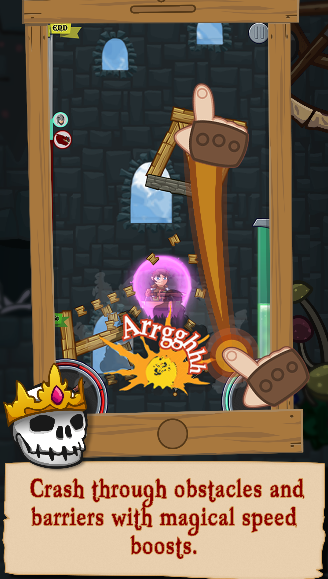 Windsquire is the latest Android app that has been developed by Mindgrub Games. The app is compatible with all the Android devices running Android 4.0 or any later version of the OS.
When the knight threw him down the turret, the squire had no idea what was going to be next. But it turned out both in and against his favour. While he got the magic powers of wind, he also awoke the sleeping fire dragon that is now behind the squire. So your aim in the game is to ensure that the squire is well ahead of the dragon all the time and meanwhile you have to keep your head high to reach the top and take your revenge. But there are many more obstacles in your journey than you'd have thought of. While some of them you can cross using your wind powers, some require special magic to go through. Therefore, you need to keep collecting magic pots at intervals and keep your magic tank full.
You remember that there is a dragon catching you as well? Well, to save yourself from the dragon, you need weapons and though the first weapon (lil' knife) comes free, you'll have to earn enough coins to unlock the rest. The complete journey takes in five different stages: dungeon, royal hall, library, overgrown greenhouse and dilapidated observatory with each stage consisting of several levels of gameplay. You can view your stage completion as well.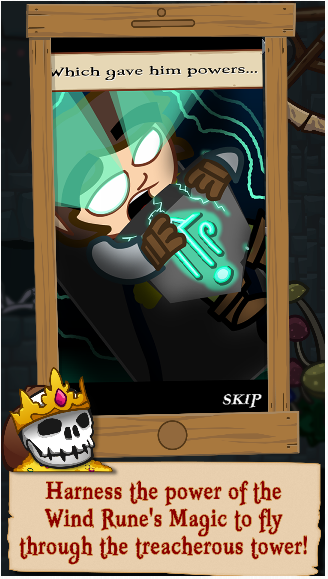 The graphics of the game match the standards set by the likes of Temple Run and Angry Birds. There is a taste of fantasy and you'd love to be a part of this world. Gameplay is addictive and with lots of twists and turns, this game is really one to look forward. Also, there is online leaderboard to post your scores on and lots of achievements to unlock.
The app is available for free in the Play Store. It's one of the best free games and you should download it as well.
Pros: decent graphics; interesting backup story; nice theme; lots of fun and adventures; online leaderboard; free.
Cons: none.
Download Game