Claim it! Get Free Stuff is a unique app, which enables you to win bunch of useful stuff for absolutely no cost. Through this application thousands of people can win passes, snacks, drinks, gift cards, gadgets, games, shoes, hand bags and several other items on a daily basis. So, if you are someone who always look for free gifts and offers, this app is for you. The days of spending money on little stuffs are gone and now you can get them for free though the Claim it! app.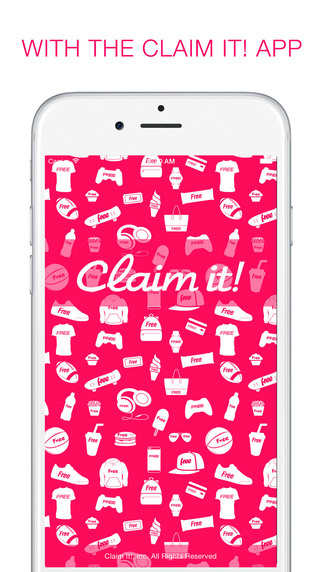 The Claim it! app is open for every citizen of US. New York being the launch city of the program, for redeeming your gift cards and vouchers paying a visit to the designated stores of Claim it! at New York might be necessary. However, in order to facilitate the distribution of gifts there are also Claim it! trucks that you can find right on the roads of your community. So, enjoy the free gifts and offers being distributed just by downloading the application on your iOS device. The days of winning free gifts are back again and participating in it is now easier than ever before. So, download the Claim it! app for free from iTunes and start winning free gifts from today.
Claim it! is a beautifully designed application. It presents details about every gift that you can win, and the users are instructed to go through the "terms of use" mentioned within the app to know more about how exactly they can win big as well as small stuffs. The descriptionsof gifts available in the app are accompanied with pictures, and hence you can have the exact idea about what all you can win. Even if you happen to not to win anything of your choice, you can always turn to the Claim it! truck to get a free drink or snacks, so it is always a win for the Claim it! users.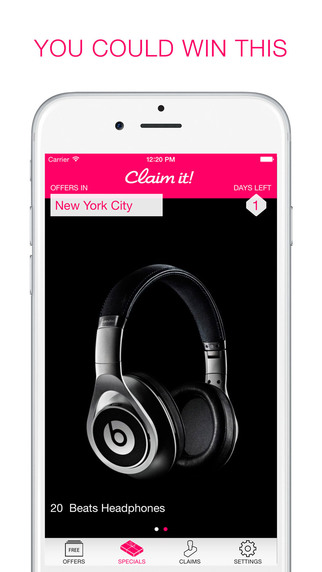 The present running version of the application is version 1.2.5 which offers a very attractive look. In this version some critical bugs and update stability issues have been solved. The application is presently available only in English, and falls under the Gambling and Contests category, hence cannot be downloaded by users below 17 years of age. It needs iOS 8.1 or later versions to run smoothly, and is compatible with iPhone, iPod touch and iPad. It is also optimized for iPhone 5, 6 and iPhone 6 Plus. The application takes 9 MB space on the memory chip of your handheld device.
Good: The application brings back the joy of winning free gifts. Everyone is a winner with Claim it! and through the gift cards and vouchers distributed by the application, users can even avail good discounts on their future purchases, which can be an effective way to save on their budget.
Bad: The application falls under the Gambling and Contests category and cannot be downloaded by users less than 17 years of age. No other bad report about the app has been received.
Worth Having App – Download the App