Syncing your data between your mobile device and your computer is quite necessary. While there are many apps that allow you to create this connection, very few have efficient special features. One of those few is the Android app Web PC Suite. This app allows you to manage files between your mobile and PC by connecting the two devices wirelessly. It establishes a remote connection between the two.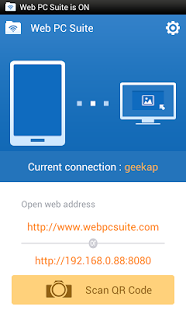 Developed by GeekSoft, the same company that also developed File Expert, the name of the app says quite a bit about its function. Essentially, it gives you control over your mobile from a web browser on your computer without having to connect a USB cable or downloading any software. It provides an easy to use interface for users to transfer files from their PC to a web browser and vice versa. Files as large as music and movies can be handled easily as well.
Once you download the app from the Play Store, setting it up is extremely simple. You have to merely scan the QR code on the website and pair your PC and mobile together. In case you are unable to do so, there is an alternate option to connect directly by authorizing a connection from your computer. With this, you have established a secure connection between the two. Following this, you can access data on your mobile from your PC. You can view certain features of your phone such as images from your Gallery, view the storage left, view videos and more. Also, you can read text files stored on your mobile from your PC.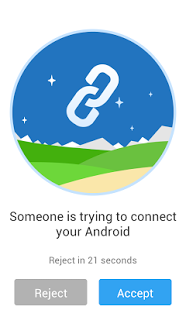 The ease of use of the user interface is what sets this app apart from the rest in its niche. The desktop interface windows can also be minimised or closed just like all other app windows. Navigating through files and data is almost as easy as it would be for that on your system. The implementation in the browser window makes the app extremely lightweight and allows for addition of special advanced options too. It also ensures that you do not have to worry about compatibility issues in terms of hardware or operating system of your computer system while transferring files to and forth. As long as the two devices are connected via a network, you can communicate between them without any issues.
The setup of the app is overall done very well. It scores well in terms of speed, performance and efficiency offered. The user interface design is based on a light theme to focus on the main app functionality. It is bold, clean and highly intuitive. There are menu bars for shortcuts commonly used and also menu bars for the tools commonly used. On one side is the information about your device storage.
While working with the app, it does not allow you to let your device go into sleep mode. This often drains out your battery. While there is a setting to disable this, it is not as prominent as the other features. Apart from this, it is a great app with a superb concept and an excellent implementation.
Good: Implementation on the web browser
Bad: Drains out your battery largely.
Worth Having Application –  Download the App