Have you ever wanted to lessen the burden of sending faxes from a fax machine? How about if you can do it with a simple phone that you own with you? That would be a lot better, right? Yes, Smart Fax: Send Fax from Phone turns your phone into a fax machine.
Given by Hypereact Limited, this is a popular and highly-rated mobile fax app, that turns your smartphone or tablet into a fax machine. It allows you to send a fax from your phone in a faster, safer, and simpler way. Documents can be sent with HIPAA Compliance. Belonging to the business category, this would be a great addition in case you are using it to send the legal documents and business processes.
Fax that you need to send can be sent directly to your address book or to the contacts on the phone book from anywhere and at any time. Smart Fax lets users add a note to the faxes that can be sent or received and also set the notifications to those that are sent and received from emails. With all of these, users can send fax documents that are HIPAA compliant to many countries. Documents, receipts, contracts, books, sticky notes, photos, IDs, passports, whiteboards, posters, cards, letters, newspapers, screens, licenses, menus, certificates, sheet music, and so on are the different things that you can send with this app.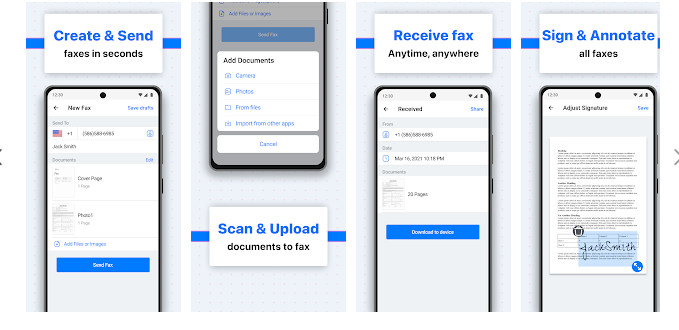 When you have any attachments, you can upload them from the device or cloud storage. Smart Fax: Send Fax from Phone gives you the advantage of sending faxes from the camera roll, or you can turn your cloud-based documents into faxes via Dropbox, Google Drive, and more. Even putting up a cover page for the fax you want to send becomes easier with this app. The supported formats are PDF, JPG, and PNG. Image correction tools and options to sign the documents or faxes and send them without printing are available.
Smart Fax: Send Fax from Phone is available for Android and it can be used to send faxes using the address book as quickly as possible. It comes with a simple interface that is so easy to handle. It is compatible with android 5.0 or later versions. When you need anything to be answered, you can write to them on the email address hypereact.ios@gmail.com. It is completely free for download and there are in-app products with price per item.
Send any kind of documents of high quality with this awesome app Smart Fax: Send Fax from Phone.
Worth Having App – Download the App