When you think of bowling games on the iPhone and iPad, you probably think of a pretty generic game. Bowling apps have been around since the App Store first existed, but now, many years later these apps have undergone some major changes to keep them fresh and different from the rest. This type of innovation is normally either genre defining, or a big mistake, so what has happened with Tilt-a-Bowl?
The first innovative change is in the pricing of the app. The game is free to install, and with that you get the entire game – the only way to unlock the locked content is by playing the game. The lack of a micro-transaction store or full price purchase option is refreshing. Instead there is a 'pay what you want' feature, so if you enjoy the game you can decide how much it was worth. This should be recommended as it would be good to see more games go down the route, so be fair!
The game mechanics revolve around two separate game modes. The first, and main, is a kind of challenge mode where you direct the bowling ball into the pins which are littered across the alleyway. Collecting starts as you go will increase your speed and give you a higher final score. The score in this game amounts to nothing more than just competing between friends, but that isn't necessarily a bad thing. There are three different difficulties of alley, each with sixteen levels to be unlocked.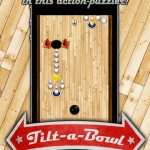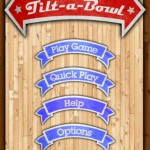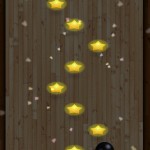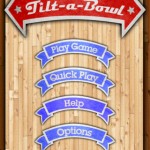 The second game mode is similar but without the unlocked levels, it's just playing the game. These two modes being so similar to each other, was unexpected as for a bowling game there is no traditional bowling.
The lack of bowling leaves this game as more of a hit the obstacles game, that have becomes so popular on the App Store. There is no reference to bowling other than the theme, and this was disappointing to see.
If you want a bowling game then don't get this, however if you want a casual game that has a lot of content for no cost, then this will be exactly what you have been looking for.