Merely waking up each day does not suffice at times. It is good to stay updated with the news and weather conditions so that you can brace yourself for the day ahead of you. If this is your criteria for starting your day, then the iOS app 'Talking Weather Alarm Clock' is just perfect for you. As you wake up, you can listen to weather updates and more right from your bed.
Once you have an idea of what to expect of the day, you can prepare yourself for it. The app gives you good insight. And to make things easier for you, it talks to you and gives you all the updates. All you have to do is sit back and listen. No sooner than you stop the alarm, this creative app will tell you about the weather forecast, latest news, horoscope, calendar and much more.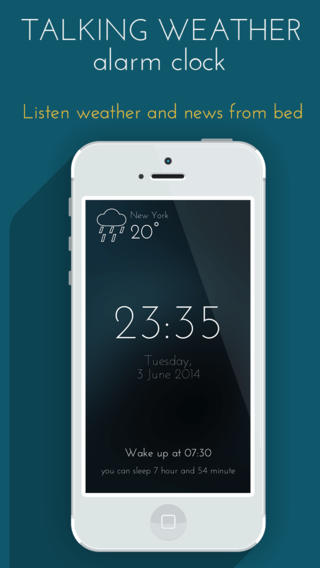 One of the striking features of this app is that it has been designed keeping the iOS 7 style in mind. One can access the main features of the app using gestures. Packed with a host of features, it indeed does have quite a bit to boast of. The weather prediction accounts for the next 5 days so you can plan on a long term basis. For short term updates, there are weather updates once in 3 hours. You can access the weather and alarms directly from your device homepage. Also, you can customize the options for stop and snooze as per your convenience. If you like the idea of waking up to your favorite music, you can add a couple of songs and the app will play different ones for each alarm.
For better versatility and a global appeal, the app is available in 10 different languages with atleast 5 unique voices for each. There are customization options for the weather, calendar, listening and social. Most of the app features can be personalized to suit your style. The homepage of the app has 4 different interfaces for you to choose among- cartoon, blur, weather and city.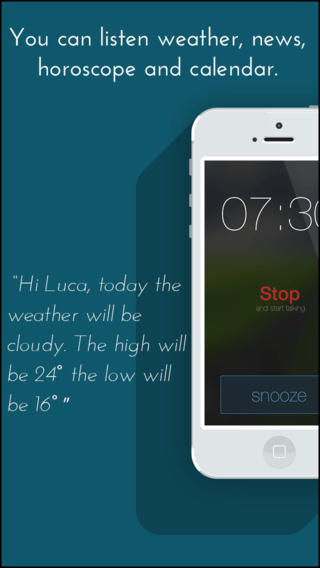 However, the weather source, unlike the news source, cannot be changed. The news updates are majorly only from CNN. A wider incorporation of opinions could do the app a lot of good. Among other issues, the weather format is in Fahrenheit by default and cannot be changes to Celsius. This can be quite annoying as most people are rather more comfortable with Celsius. The ads also clutter the screen and can be a bit of a nuisance for those using the free version. Another downside is that it can drain out a lot of your battery.
All said and done, Talking Weather Alarm Clock is an app worth having on your iOS device. It is compatible with iOS 7.0 or later and requires 50.6 MB of memory space. With weather and news updates early in the morning, you can make an informed decision about what to wear and what to expect of the day. This mindset can make a huge difference indeed. Combining it with the convenience of an alarm, that too one that talks, is indeed a brilliant idea. Kudos to developer Luca Perino.
Good: Innovative idea of talking weather updates with an alarm
Bad: Drains out battery, weather cannot be changed to Celsius.
Worth Having Application –  Download the App