The essence of a dessert would have been absent from the dinner table had the sweetness of the sugar been not added. Fruits would have been tasteless and the world would have been a much bitterer place. I am not trying to talk girlish as sweet is the flavour of girls. But thanks to the creator of our story that we have such a flavour to serve our taste buds. I hope there are no diabetic patients reading this because they are already living in the hell I'm talking about. So no more delays and let's get straight to the topic. Suppose if you go to a candy shop and it's out of stock! But there is one shop that's open 24 hours and is never out of candies. Want to know where that shop is? Then just follow me down this page and find it out yourself!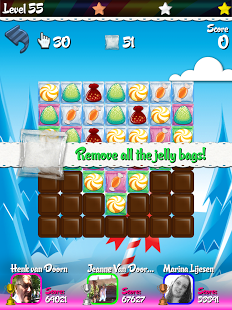 Sugar Crush HD is the latest Android app that has been developed by TapGames. The app is compatible with all the devices running Android 2.3.3 or any later version. Also, it comes for iOS as well and is compatible with all the three devices: iPhone, iPod touch and iPad and requires iOS 5.1 at least.
If you look at the gameplay, it's very simple as you have to match 3 candies and they will explode giving space for new ones to come down the board. But there are many twists to the tale including some special candies such as Chocolate bombs, Rainbow sweets, etc. If these special weapons are used wisely, they can be very helpful in clearing the board in the minimum of time and moves and help you score more.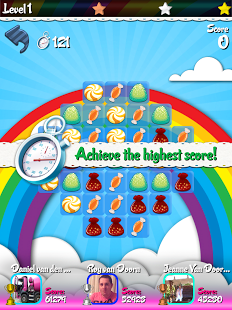 Though the gameplay is not anything that one can boast of, graphics certainly are. The developers of this game have put a lot of effort in choosing the best colours and finishing the game at the highest point of design. We know that sugar games are mostly played by children mostly and graphics are certainly the one area that attracts them the most. The only way one can define a game to be high-end is the electricity it brings to the eyes of the viewers. Also, the animations have been very beautifully designed and synced perfectly with some good sounds.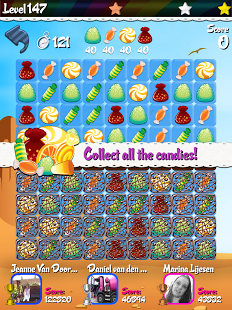 There's enough stuff in Sugar Candy HD to keep you busy for hours. There are total 4 episodes consisting of 216 levels. There is a candy shop as well (as I told you) from where you can buy candies and stuff.
If you ask me if I like this game or not, then my thumb would point upwards. There are no slag points to the game and it's a complete entertaining show. So don't miss this one!
By the way, the app is available for free in the Play Store, though there are some in-app purchases.
Pros: electrifying graphics, a treat to watch; addictive; lots of levels to play; free.
Cons: none.
Worth Having App – Download the Fun App