While there are lots of Sudoku apps in the market, very few stands out and cater to the needs of the players. One among these is the Android app Sudoku Free by Astradia. This game brings something different and unique to you. It is perfect for people of all skill levels- ranging from beginners to experts. Basically, you will find everything you can expect in a Sudoku app in this one.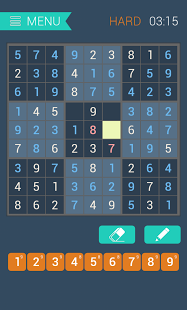 While the basics and rules of the game are the same as all other apps, this one has a number of additional features that help it stand out. The key focus of this app is to provide ease of use and flexibility to players. In simpler terms, players should feel comfortable and should not miss playing with pen and paper when they use this app. To get you started as a beginner, this app has a 'How to Play' section, although it is all text. It does give first timers a good start with the game so that they do not feel lost.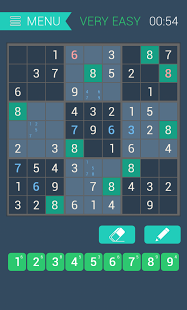 To add to the flexibility factor, you can take down notes of numbers you are unsure about, as you would do using pen and paper. Multiple numbers can be placed in a box in a smaller font to avoid any confusion. Once you are sure, you can put the final number in the cell. If you have to leave a puzzle mid-way for whatever reason, the app will save the game for you. You can get back and resume it from where you left. Also, you can view all the occurrences of a certain number just by tapping on one of them. All this and other little tricks make you feel at ease.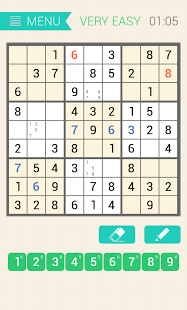 There are five difficulty levels- very easy, easy, medium, hard and extreme. If you are new to the game, you can get started with the very easy ones and work your way up the ladder. Either way, you would definitely know where you stand. You can compete against others playing at your level as you improve gradually. The developers have put a lot of thought into every puzzle that they have designed, ensuring that no puzzle is the same as another one. Each puzzle requires a different strategy.
The simple layout and intuitive user interface makes this app a pleasure to use. While the game does not focus on graphics, it makes excellent use of colors as and when required. The app has superb aesthetics that will appeal to just anybody's senses. This, combined with the ease of use and the uniqueness of each puzzle, make this game one worth trying out.
If you are looking for a Sudoku app with unlimited unique puzzles that you can play at any time and any place, this app is just perfect for you. It is compatible with all Android devices having Android 2.2 or later. As it is one with a simple layout, it does not have any side effects on the performance of your device. At the same time, it definitely does improve the performance of your brain.
Good: Easy to use, simple graphics
Bad: None
 Worth Having App – Download the App