Squawk Mobile is an application for social networking which allows you to tag events and memories geographically through saving locations and collecting your favorite locations easily. It is available on the iPhone, iPad and iPod touch with the requirement of iOS 8.0 or later.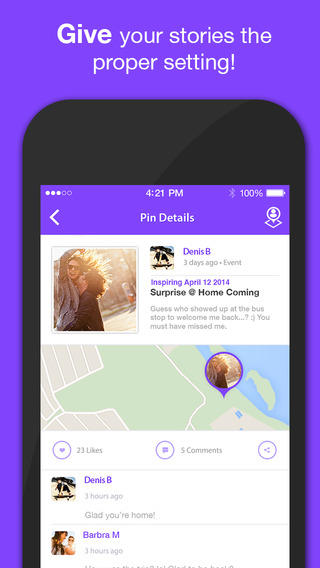 The first thing you need to do when you run this application is to connect your social media profile. You will immediately notice how the graphical design of the program is elegant and user friendly, has very comfortbale colors with the combination of purple and white.
After you connect your social media profile, you can see the features of the app such as pinning a location, collecting and organizing locations and event pins through the Collections feature, helping with locations if you're new to an area by creating a collection of buildings and sites and all sorts of helpful location related features.
Creating an Event Pin is very easy by selecting the location to drop a pin. You also have the option of choosing a photo and a title with a description on the pinned location. You have a similar option to rating but it's more related to experience and type of event which is selecting whether it was happy, heart breaking, fun, exciting, inspiring, awesome or funny.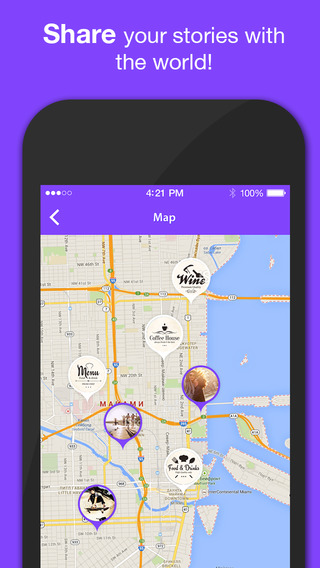 Another amazing feature is that you can manipulate and change the date of the pinned event if it will happen in the future or has happened in the past. You also have the option to share the event with anyone so others in the world can find it or you can make it private for only your followers to see.
This application saves your privacy by providing an anonymous setting which you can select to hide your personal information when others try to search for events and locations in the particular area you're in. This comes very handy for people who are under the age of 18 and want to protect themselves from strangers collecting any data about them or their location.
The app contains a lot of user-friendly and good features such as posting locations such as home addresses, concert venues including adding title and description of each address and photos. Locations such as these are private and not included in the search as the app protects your privacy.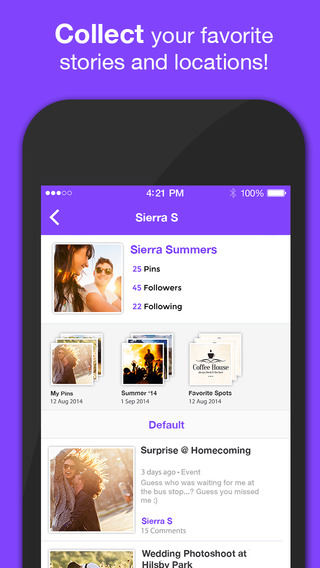 You have the option of adding photo albums to a particular event and searching and finding out about shops, restaurants and different places which you had experience with and sharing them with your friends. You can interact with other people by commenting on and finding their favorite places, events through the search feature. You can receive notifications when people comment on your event pins, locations. You can also follow users and social media friends to find out more about their favorite locations and events.
In conclusion, this app for all it has to offer, with its sharing features of events, description editing of events and locations, collecting and organizing favorite locations and interacting with your social media friends, you can get all this for free at the app market if you own an iPhone, iPad, iPod with iOS 8.0 or later, it is well worth it.
Worth Having Application :  Download the App