Die-hard fans of sports of all kinds are in for a treat with the new iOS app SportStreet. You no longer have to follow loads of pages, sites and newspapers to get the latest updates. All you have to do is join this app and be rest assured that it will keep you informed about all the latest developments in the world of sports. Simple though this may sound, it isn't, considering the number of sports we have to follow today and our love for more than one sport.
SportStreet is a leading social networking iOS app that is compatible with iPhone, iPad and iPod Touch, requiring iOS 5.0 or later with an optimization for iPhone 5. With this app, you have to either create a new account or you can also sign in via your Facebook account. If you sign in with your Facebook account, then you get the added convenience of having all your contacts transferred to the app directly. Then you got to add your favorite teams to the 'My Teams' section to keep track of them.
The navigation of this app has been kept simple and classical. On the homepage, there are many tabs including scores, my profile, my friends, My Teams, Wall, videos, pictures and many more. Each of these has been designed well and suits its purpose well. This app brings to you a plethora of pictures, tweets, news and posts all under one roof and covering the many arenas of sports.
What makes SportStreet so unique from other sports news sections is that it is not merely constrained to providing you with news alone. It is also an excellent social platform where you can interact with fellow fans and have discussions about your common passion for sports. It also fulfils the purpose of keeping you in vogue with the latest news but does this in the form of posts from various sources like Instagram, Twitter, YouTube, etc. this gives you the convenience to comment on these posts, like them, share them and also allows you to upload your own pictures. So, to put it simply, it is a sports news magazine with a social twist.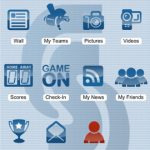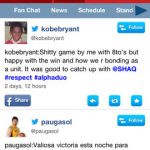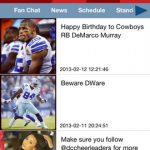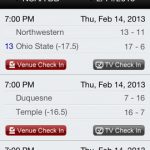 The design and layout are not particularly spectacular but considering the many purposes it serves, it is most probably the best optimized solution. Some are of the opinion that it has been cluttered with tabs and options but the separate homepage is a good way to handle it all. The Live Game Chat does a good job of encouraging interaction between fans to keep in touch with the opinions of others all around the globe.
SportStreet is essentially a sort of news section cum social network created keeping the common interest of sports lover all over the world in mind. And it does this job mighty well too. If you are a sports buff, then there is no missing out on SportStreet. Just login and watch the world of sports unravel itself in front of your eyes on your iOS device.