Speed PRO+ app launched for iPhone. I found it very accurate, user friendly and an inch ahead over other apps in similar category.Let's quickly demonstrates and find out what features makes unique to this app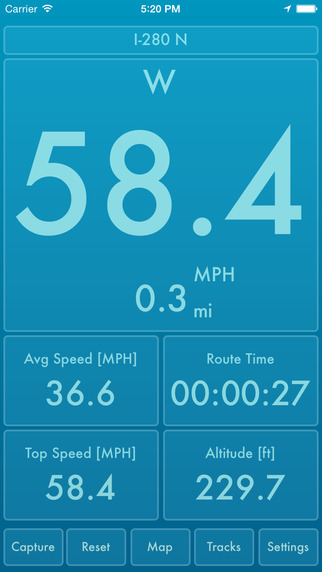 GPS and route Tracking Activity:GPS tracking activity enables to track routes from GPS and shows an estimated time required to reach destination.In this sense, It works as ad add on to GPS.It always records your route. It enables to either save, copy or share it on facebook and email too.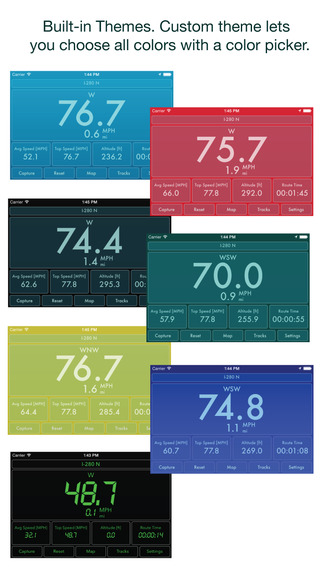 Dashboard:Team Mother Tucker tried to keep dashboard as simple and user friendly as possible yet incorporated all features in very sophisticated manner. It's simplicity makes user get an idea of complete app under single screen.It has half screen size tab which displays real time speed which is very well synchronized with real time data.Our Team tested it while driving and we found it in complete sync with car speedometer.Below that, you will find 4 tabs for Avg speed, time elapsed,Top speed and altitude which also gets updated very quickly with real time.At the very bottom there are 3 hot keys named as Capture,reset and settings.Hence It gives you an overview of entire app.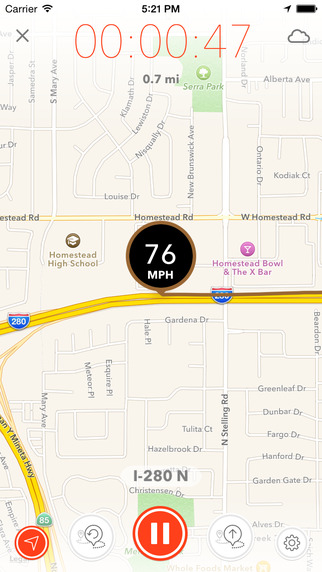 Hot keys:Capture key helps you to either save or copy the screenshot of speedometer and also allows it to share on email and facebook.Reset button helps to rest any previous data with single click.In settings, You will find an option to set your best desired accuracy with multiple options. You can also turn on or off background updates so this app can be keep on executing in background.You can also set units from settings and customize your speedometer themes and colors.There is also an option to customize the tap actions like single tap to pause/resume and double tap to ignore.
Auto paused/resume feature:There is also an auto pause/resume feature to keep your app paused when you are stopped.You can also customize this feature by controlling the speed at which you want to get paused/resumed.
Camera features:It enables to take photo without leaving the app.To start recording you just need to swipe speedometer to camera and double tap to start recording. Very useful when you are on a trip with family or friends. It also provide to preview with single tap.hence very convenient while trips to quickly capture moments.
Conclusion:If you like to go on long trips and like to capture your movement, This is the right app for you.It has very accurate movement capturing feature and will never disappoint you in its primary function.Though I found that Altitude accuracy could be better.Team mother Tucker has added some new features from their last version such as silent mode to turn off sounds and fixed some bugs such as start time crash.I found this little app very useful and nice equipped with user friendly dashboard and some advanced features.You won't regret after having this app.Go ahead!!
Worth HAving App :  Download the App