SmartSearch is one easy app that works as a fast mobile browser especially for those searching or surfing Web with an aim of finding information through search engines or various services. Due to its features, it is an amazing app when you compare it to other common browsers like Opera, Firefox, or Chrome. Upon using it, you will have an easy time when trying to find that relevant information over the internet. The following is an overview of the SmartSearch app:
(i) Concept
SmartSearch app has a rapid launch that makes it works well for those who need to do their internet search. It has rich-featured search box and the capability of doing fast search in many other common services like Bing, Yahoo, Twitter, Amazon Images, Google, YouTube, Facebook, Translate, eBay, and Wikipedia. With the numerous color design themes, one will be happy with the results especially when looking for some of the best options.
(ii) User Experience
SmartSearch app has excellent advanced features for an effective content sharing as well as browsing for those who will be looking for information. Moreover, when an individual looks for the stated information, one can be in a position to limit ads on the websites at the same time loading them faster. In addition, it has a rapid access to start for those entering search queries with the autocomplete typing feature. When one is browsing, he or she will create a shortcut of collection especially of the popular websites that includes news, social networks and sports at the same time managing Bookmarks list.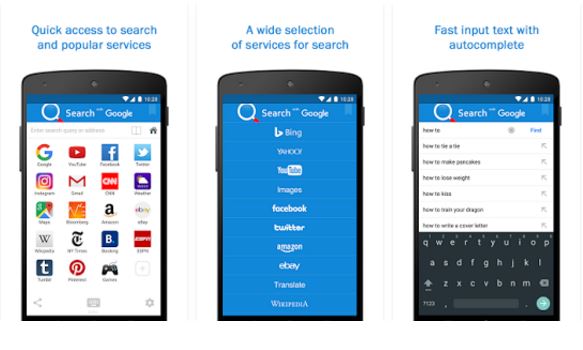 (iii) User Interface
The Smart Search app application has an option of full screen mode for an excellent viewing content while searching fast. This app enjoys a smart visual history for an easy fast access to all visited websites recently. With the integrated readability function, one can transform large articles to view conveniently for simple and easy reading.