Smart marketers magazine is the best app available to keep you up-to-date on the latest trends and technologies in digital marketing. There are lots of digital marketing apps available for mobile devices, but what makes this one stand apart is the unique features it can offer. Each new version of this app comes with some fresh and highly useful content, which can help you in succeeding in your digital marketing career or business.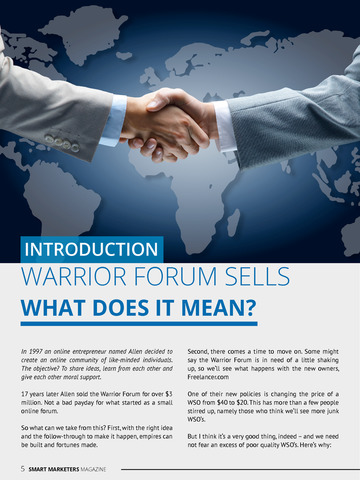 Smart Design 
This app is designed smartly to be used with all kinds of mobile devices. While reading you can flip through the pages as you do on non-digital magazines. There is a bottom bar which allows you to instantly move to any of the pages you select. Zoom in and zoom out facility can be availed by double tapping on the pages.
Target Marketers
This smart marketers app is best suited for all small businesses, one-man companies and start-ups. All the articles provided by it are written in a friendly tone, and are simplified versions of complicated theories, which makes the information easy to understand and quick to implement. This app can also help students who are digital marketing enthusiasts as they will find its content truly intriguing. Professionals working in large companies can also find certain tips useful.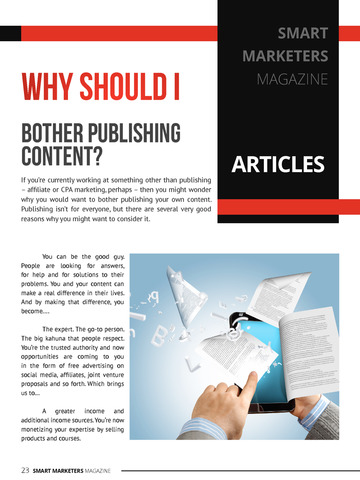 Themes  
Smart marketers magazine can be a great guide for the people who are new in the digital marketing business and are struggling to make their business work for them in the right way. You will find articles that will educate you about innovative ways to use most popular digital marketing platforms such as Facebook, Twitter, etc. to improve your business. This will help you in the integration of search engine optimization with social media and various other strategies of content marketing. You will also get tips on how to use google and on the ways to increase your ranking on google.
Pull Card
The most prominent feature of this digital magazine is that it offers you secrets that fuel the growth of some big and reputed companies. This information can surely help all the small firms to work on the path of gaining better position in the market. You will find different sections in this app, such as idea section – to stimulate your mind on thinking what you really need to do, news section – showing all the latest trends of the markets, article section – which contains all the advice related to digital marketing and the resource section – which helps you to know all the tools which are available in the market.
Price 
Of course, all this information comes for a price. Although a free version of this app is also available, you will not be able to utilize all the function of this app in its free version. With a price tag of $8.99 per month the paid version might seem costly, but the information that you will receive will be worth the price.
This edition of smart marketers offers you a user-friendly and interactive way to browse all the informative content related to digital marketing, internet marketing, marketing funnels, offline marketing, traffic conversion optimization, as well as social media, SEO, etc.
 Worth Having Application :  Download the App