Gametime is one of the amazing free apps that gives users access to affordable MLB, NBA, MLS, NFL and NCAA tickets and in just two taps. It's a sports-centric mobile ticketing app that to help fans secure affordable tickets. The app turns your phone into a mobile ticket that can be easily scanned or transferred to others. The following are some of the other amazing features of this app.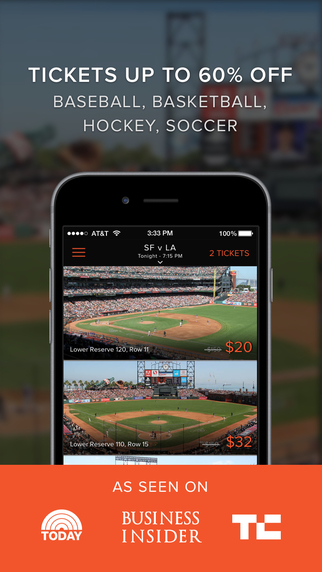 #1: Live games.
One of the most interesting features of this app is the various types of sporting events you can buy tickets for.
#2: Live Notification.

You have the option to receive push notifications for deals and events in your selected location. 
#3: Two tap purchase 
Once a game is selected, complete the transaction and have you tickets in just two quick taps. 
#4: Panoramic views 
Gametime uses beautiful panoramic photographs of each stadium so you can see your seats before you purchase. 
#5: Bottom line.
In a bid to help various sports fans who want to go to upcoming games, Gametime app aims to sell tickets quickly through its sleek, fast and to the point features. All the pain points are normally removed so that it will offer fans the opportunity to make easy decisions on the tickets to buy at a reasonable price.
On a final thought, you ought to take advantage of Gametime iPhone app by simply downloading it freely and enjoying the amazing features for the best game app experience.
 Worth Having App – Download for ios – Download for Android