Newsvoice is a crowdsourced app. I found this app while I was searching for an unbiased source of news. I regularly try out new apps in an attempt to find one which suits my taste. I was not happy with the other existing apps whose content is always made to suit their bias. Initially, I was quite apprehensive about this app but once I installed it and started using it, I totally fell in love with it. I would happily recommend this app to everyone.
Interacting with other readers through the comments section is an added advantage. I was able to write my views on the articles in the comment section and have other readers either agree or disagree with it. It is nice that I can debate certain topics with people from all over the world. Most of the other apps do not have this feature. We don't have the freedom to express our opinions and point of view.
Another thing I really liked about this app is that I can add stories or pieces of news which seem to be missing in the app. It so happens that not every piece of news is covered by the media. The media tends to cover only those pieces which they can sensationalize. This can be frustrating for a lot of readers like me. Newsvoice app overcomes this obstacle by adding a new feature where every reader can add stories.
The whole concept of clickbait is missing here. You can read articles on whatever topics you find interesting. This whole concept of clickbait is thankfully not available in this app. Some days, I like reading articles in-depth and some days I like to read articles by having a quick glance. It depends on my work schedule for the day. This app perfectly accommodates my reading methods.
You know how you read an article and then realize you want to know more about a particular statement mentioned in the article. It used to really frustrate me that I couldn't do this with the other apps. This app came to my rescue on this point. I can easily keep clicking away to read an in-depth and detailed article on the same topic.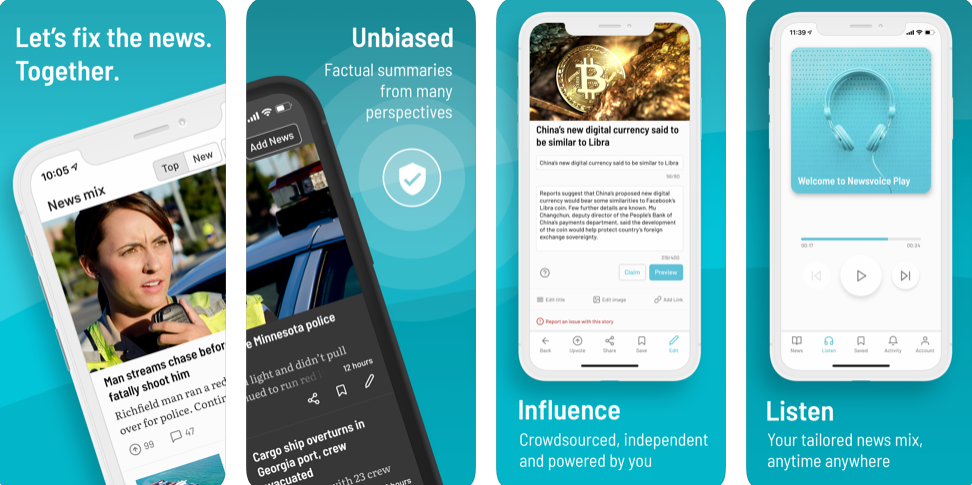 The customized feed is another advantage. I can upvote the articles I like and the app will store details about the topics I like to read. This has provided me with a feed that caters to my tastes. The interface is really simple and easy to use. I like the UI design which is quite intuitive.
Pros
Easy to use interface in the app
Customized feed which gets updated with every use.
Crowdsourced news articles.
Wide variety of news articles.
In-depth articles as well as short articles available.
I can exchange comments with other readers.
Unbiased news content.
Cons
Not available for Android users
Worth Having App – Download the App