It is now the best time to surprise both the locals and friends with a rich flow of English-based terms from other parts of the world. This will absolutely make those people feel that their culture is appreciated and thus this may in turn change the way of welcoming received. Besides, getting to understand the language of the locals with utmost perfection places one at a critical point that demonstrates a great milestone of achievement made.
Eventually, if one is a traveler, it is clear that the entire vacation or trip is bound to be absolutely fantastic! This entire fascination has now been brought by Say What app. The user of this great app should be ready to have a momentous experience as they consistently get exposed to countless vocabulary of different terms and words expressed in English slang.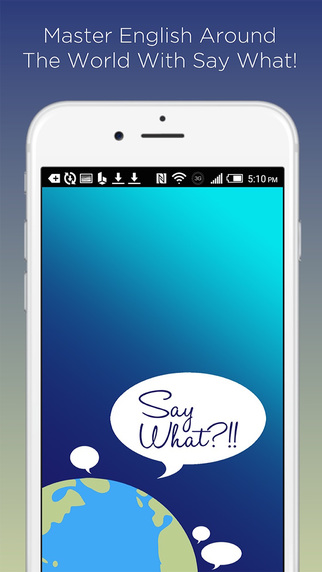 What is Entailed in Say What app
Clearly speaking, this great app is unique of its kind. It comes with the main objective of bridging the gap between the American-English and the English slang that is experienced in English-speaking countries. How is this achieved? Actually, there is a platform where the users make submission of different terms and phrases and receive their meanings. In other complicated situations, the app is able to provide perfect translation to such phrases into American-English. The entire approach adopted by this version 1.0 app is user-friendly thus making the user to easily grasp and understand the content provided with much ease.
Generally, this great app has exhibited great performance since its introduction on 16th June, 2016. Currently, this app is available in English language and so far it has received high positive rating ( 4+ rating) that makes it exceptionally outstanding.
Suitable Devices For Say What app
The continuous seamless performance displayed by Say What app clearly indicates that it requires perfect compatible devices that can meet its standards. This is why the most recommended devices for this app are iPod, iPod Touch and iPhone. When it comes to operating system, the user will be needed to have installed iOS 7.1 or any latest version that can be found.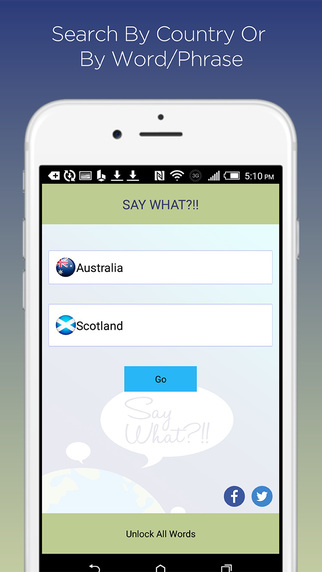 Features
Interestingly, this amazing app comes with great features that will highly assist the user while using it. They include:
Explore different phrases across countries
As a user, there is a wide range of vocabulary of phrases that is provided by this amazing app. This puts one in a position of getting an incredible learning experience that can be helpful when travelling to such places. These terms emanate from countries such as Ireland, Scotland, South Africa, England, New Zealand and Australia.
Clear and understandable translations
There is no hassle of struggling to understand a term or phrase that is quite challenging. The incredible Say What app actually does this task perfectly to give the user with the best solution that is worth it. This even boosts greatly the level of understanding!
Check a country's list and give submissions
The user has an opportunity to check through different country's list and go ahead to submit different new words together with phrases. This is because each country contains different slang English and thus the user can check in relation to the preferences.
Make different search based on phrases or country
This amazing app comes with two unique alternatives that the user can comfortably apply. There is the option of searching different terms in relation the phrases that one may be acquainted to. This approach can be effective as it is more specific. The other approach is using the country as a basis for searching terms relating to it. It is worth trying both!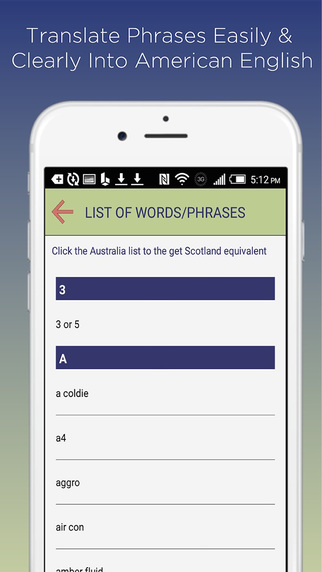 Here are the merits and demerits experienced from this Say What app:
Merits
· A wide exposure to new phrases and terms worth learning
· User friendly to use and understand its operation
· Efficient English translator
· A revolutionary app with an aspect of bringing interconnection
· Fascinating experience when engaging with the app
Demerits
· Some terms (especially most recent ones) not integrated
· Some languages completely hard to understand
Final Verdict
What a great and revolutionary app Say What is! This is a true replica of a great tool that is completely deemed to bridge the gap that creates the language barrier issue. It has enriched itself with great choice of vocabulary from English-speaking countries. This makes the user have a quite cool learning experience. This is the best time to own this amazing app. Download for free today and master English around!
Worth Having App – Download the App