Are mobile board games your favorite pastime?
Then why don't you enjoy during a family party rather than usual gossiping and irrelevant talks? I am a fun-loving person. So decided to spend time differently with my friends. You know what I had my daughter's birthday party with all my close friends at my home. Once the party is over could see everyone was simply fiddling with the phone to while away the time. So I wanted to try this Royal Tiles  Match 5 puzzle game along with my friends which I was already playing during my past time. So quickly asked everyone to download the game and started playing from the same table sitting beside each other. OMG! I have no words to express the fun and joy we all had playing around the same table. Could see everyone's expressions and reactions as well while playing along with the live interactions.
GET TO KNOW ABOUT THE ROYAL TILES GAME
You start the game off with all players having a player board.
There are "factories" that create tiles each round.
These "factories" make 4 tiles which you can use to design your wall.
When it is your turn you can get tiles from a factory but the catch is that you have to take all the tiles of that color from the specific factory.
If for example you want blue tiles and the factory has 3 blue tiles, you have to take all 3. You then have to play the tiles on your board in a row. If you have too many tiles for the row, the tiles remaining "break" and cause your score to be reduced.
ROYAL TILES GAME FEATURES
Choose from different emotes to play with – angry, prophet, sad, servant & more
30 challenging game levels with increasing difficulties
Invite new players on the game
Make your own collection of the royal tiles
Game Modes – Offline Mode or Multiplayer Mode
Multiplayer Game Mode with 2 players, 3 players or 4 players
In-game tutorial to learn how to play the royal tiles puzzle
Multiple languages supported – English, Chinese, Spanish, Arabic, Indonesian, Portuguese, French, Japanese, Russian, Deutsch
Buy coins from the online shop
Buy game skins from the game shop
Upgrade to get more emotes in the game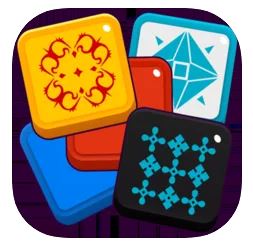 SCORING DETAILS
Each round ends once all the tiles from the factory have been taken.
Points are scored horizontally and vertically for rows of the same color tiles.
The "factories" are filled randomly each round so you can end up with a great score, minimal score, no score or a negative score in a round depending on what comes up in the "factories" and what color you need.
You cannot score points on incomplete rows. When you take your color from a factory, any other color tiles get moved to the middle.
If no one takes from the center pile, often the last player ends up having to take tiles from that collection.
This can often mean a negative score if there are too many of the same color in the center.
Your score is worked out on the columns and rows you have filled with extra points for columns or rows of the same color.
BONUS BONANZA – WIN REWARDS WITH REFERRALS
Yes, this is yet another great feature of Royal Tiles. Just refer to your friends and win exciting features as well exclusively for you.
If you refer 1 friend you will be getting an Avatar
If you refer 3 friends you will be getting a new tile skin set
If you refer 5 friends you will be rewarded with some attractive and unique emoticons
If you refer 10 friends you will be rewarded with you are going to unlock some unknown features of the game
Download the abstract tile designing game- Azul. Encourage your friends to download the game and start filling their board with multi-colored tiles in the unique azulejo style.
Final Say,
Royal Tiles is a multi-player game system that made us remember all the good old times and moments we had with each other. Are you guys interested to know as well? Here I go just download the Royal Tiles Play Store game from the play store and celebrate moments together with your friends and family. Many more thanks to the developer for engaging us with something new and different. I am sure this wonderful release will hit many referrals and cross milestones.
 Download :