It is a busy life you lead and there is so much to remember, that it is very easy to forget things. In the era of internet and communication when you are connected to so many people through the social networking websites, all expect you to remember their birthdays and it is really not possible to do it. You manage a lot of accounts and forget to pay some bills or pick something up from the market on time. The problem is very common with working people and even the busy housewives, but it has a solution. Reminder & Countdown free is here to make your life easy by making you remember everything on, and before time. The app developed by Sergey Astakhov is currently available on iTunes for free.
The specialty of the app is that it will remind you about every event and every birthday that you forget, and it also lets you share things. You can customize the look of the app and you can see the countdown to more than one thing together. The countdown starts before time to help you prepare for the event when it is actually due. You can enter all relevant details regarding the app and see the event coming up in date, year, month, minute and second format.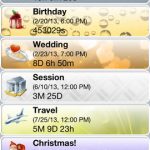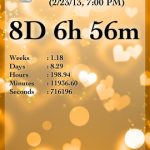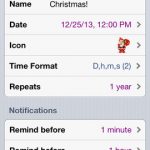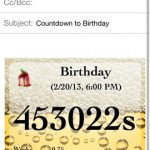 Features:
Reminder & Countdown free helps you remember meetings, business presentation, family events, birthdays and anything that you want.
There is a countdown set for the events that you wish to receive a countdown. The app is capable of managing countdown for more than one event.
You can sort the events by date by sorting the countdown.
You can select icon for every event and also select the background.
The text size and font can also be altered.
There are alert for the event on when they have happened. You can set a timer for reminder of event 15 min, 30 min, 1 hour, 1 day or 1 week before it.
You can select the unit you want to count back.
Push notifications are generated to tell you about upcoming events.
You can set a repeat time for each event.
You can set a maximum of 5 alerts at a time.
You can see the second ticking in the real time countdown.
The graphics is best in quality with retina display.
It lets you share information via mail, SMS, Facebook and twitter where you can send the complete countdown or a part of the text.
The app is available free of cost.
The notes are colorful which makes it look good.
The version 1.5 of the app is available for iOS 5.0 of later, and it takes around 44.5 MB space on your device.
Summary: Reminder & Countdown free is a free app which can be used as a scheduler or a alarm and the countdown feature makes it easier to remember things.
Good: It makes you remember almost anything for free. You can get more than one countdown at a time.
Bad: The app does not have any data fetching tool, however, it is good enough, otherwise.