Nowadays, we all are living in a world that we have never imagined. Covid-19 has hit the population very badly and has left permanent effects on the way we work. The way we live,
socialize and move about the world is now different and everyone is used to it. Most of the people are doing work from home and doing every social activity from home. The online apps which offer virtual meetings for academic and other fun activities are gaining popularity very much. For example- people are focusing on earning money as much as they can by showing their talent such as investing in the share market, conducting online hobby classes, playing real money online games, etc. So, the demand for online real-money games has increased during the pandemic. And why not gain popularity when they give you the chance to win real money by investing your precious time.
Today, I am going to introduce one such app which is very exciting and refreshing for you all!
It's known as Reel Stakes Casino, developed by Game Knight, this year. The app offers you unlimited fun with the comfort of your home, office or any of your favorite places. You can master your card skills by playing poker and Blackjack for free and win amazing real-world prizes. All you need is to download the Reel Stakes Casino app to get started. There are so many exciting challenges where you can test your luck and win real gift cards to top brands anytime and anywhere. Every time you play the game, you get more chances to win your slice of thousands of dollars in gift card prizes awarded every month. Reel Stakes Casino is compatible with the iOS 12.0 or any later versions of the Operating system on your iPhone, iPad and iPod touch.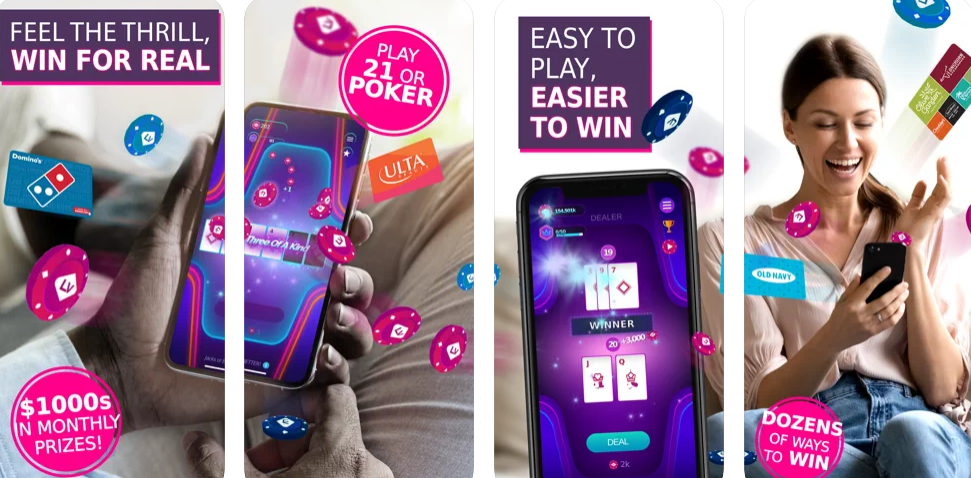 With this app, you can play exciting mini games, spin the slot wheels, and play the Big Ticket Grab bonus event to collect even more prize entries and boost your chances of winning. To get on the top of the leaderboard, you need to compete against others to claim the top spot. However, if your score is low, you can participate in the challenge again and improve your score. Every play session is a chance earn more entry tickets to become one of many daily gift card winners!
Overall, it's a great platform for all the Casino lovers who want to make money by spinning the wheels of your favorite slots machine. The app provides an amazing real experience to all its users whether it's graphics or gameplay. It's easy to play and easier to win. The more you play the more you will be addicted to it as you win real gift card prizes. If you are a beginner or a pro, you can improve your card skills by playing Reel Stakes Casino on your phone or mobile device.
So, sharpen your poker and blackjack skills and discover new challenges every day. Get the app now and play the game that is packed with thrills and rich in real-life rewards. The app is available for free on the App Store for people above 18 years of age.
Pros: online casino app; offers real-money gift cards of up to $500 each; intuitive UI, amazing graphics; super-addictive; free.
 Cons: none.
Worth Having App – Download the App –  Game Trailer Video