Do you know card games are probably the most addictive inventions of the human race? Currently, the profession of gambling has been banned in so many countries. But there are still many nations with the world's biggest casinos that have become gambling-heavens for the players. They visit them, spend some time living a lavish lifestyle and play their favorite games all day and night. These games are always refreshing because they are a fusion of the old and the new. But now with the advent of online casinos, the trend has shifted altogether. Now you can play all those games sitting alongside your home-pool and you don't have to bear the cost and fatigue of the entire journey. Also, these online casinos are always updated and bring a new and better dish to compete with the other online casino games. One such app has emerged from the blues! Let's find out how well it scores on our meter!
Reel Stakes Casino offers a real money gambling experience that you can play online on all the mobile devices. Developed by the team of Game Knight, the app is compatible with the iOS 12.0 or any later versions of the OS on your iPhone, iPad or iPod touch. When the challenge of poker and blackjack meets the excitement of a slot machine in this thrilling game, lets you play for free or wager and win real money. Playing at Reel Stakes Casino is very easy yet challenging. You just Login on the app and create your account to play Casino games. If you are a beginner or an expert, you can master your poker and blackjack skills, test your luck, and win real money and gift-cards anytime and anywhere.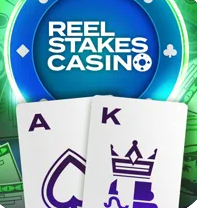 The players can develop their Casino skills, improve them and earn more and more cash prizes, gift-cards and win real money. The gamers pick and hold cards to form the best combination of hands. The people who win will fill up the spin meter and get a chance to trigger a spin on the slot wheels for earning extra prizes. You can enjoy this game in the practice mode for free which is not meant for real money. You need to be 21 years or more to enjoy this Casino game and win real money. 
All the Casino games on this platform are supported by B spot, headquartered in Los Angeles. It fuses the pulse-pounding excitement of horse racing with the on-demand fun of mobile games.
All the bets can be placed on live horse races and the winning are determined by their results. So the Reel Stakes Casino is designed with a minimalistic approach. So there are no flashy graphics, everything is clean and elegant. The interface is intuitive in nature and there are tutorials to help you understand the game and all the features.
So overall, Reel Stakes Casino is an out-of-the-box game that is fresh, intriguing and totally addictive. Grab it now!
Pros: play live Casino games online; blackjack and poker games; easy yet challenging; win real cash prizes; the intuitive UI; free.
Cons: none.
Worth Having App – Download the App