Qake is an easy to install iphone or iPad game the will certainly appeal to all those people who once could not stop playing "Snake" or "Qix". The first few levels can be downloaded for free and only takes a few seconds before you are ready to try your hand at Qake.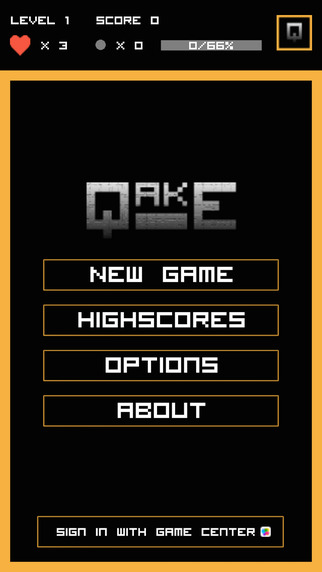 The main aim of the game is to try and capture as much of the screen as possible; this is done by swiping your finger across the screen where you want to add a division. Sounds easy right; but the dilemma is that your swipe creates a line that start to divide the screen and needs to reach the other side before the ball that is bouncing within the block touches it! If the ball touches it then you will need to try again and timing is definitely everything. Each level presents its own goal in the percentage of the court that you will have to capture.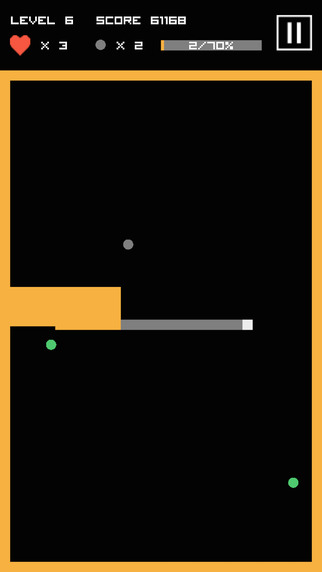 It is one of those games that at first may seem really simple, but as you advance in the levels the difficult will increase by adding an extra ball or two and a few other obstacles that will certainly have you crying out in exasperation as you fail to reach the other side of the playing field with only a few seconds to spare. In the obstacles you will find bombs and balls that you need to avoid never mind the added irritation of variable ball speed; size and even the highly annoying and equally difficult wobbly balls.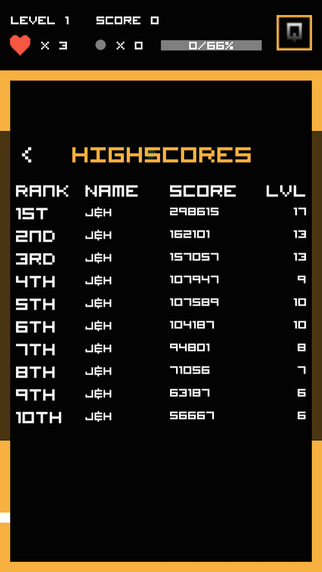 In order to earn bonus points and additional lives you can eliminate balls by simply being quick with your fingers and planning ahead to enclose them in a smaller section. The randomized levels means the ball and bomb configurations will vary every time you play so the game is never the same or predictable. In addition to earning bonus points or extra lives you can also collect power ups that enable you to move faster or become completely invulnerable. There are several bonus-levels which will help you gain achievements and put you on the leaders score board. For those love to be challenged, you can invite other players to try and beat your highest score making the game a bit more interactive with other users.
Qake may not be one of those high graphic demanding games but it definitely will provide anyone with hours of fun and will become a firm favorite on many players' favorite lists. The app can be found in the iTunes store and Qake Lite can be downloaded absolutely free. This retro game will take you back to those older classic cell phone and arcade games that may have you searching for a few more of the "golden oldies" thanks to its pure addictiveness.
It is the perfect game for players of all ages and a good means of biding your time while you wait for a bus; train or just purely to pass some free time. Just be warned that once you start it will be really hard to tear yourself away from the next challenge.
Worth Having App – Download the App