Everyone wants to visit an amusement park with family and friends. Whether it's the belly-shaking rides of mammoth slides or biggest rollercoasters you've ever seen, it's the unlimited fun on the top of all. Then, those green parks are more peaceful than an empty house. But ultimately, it's the time spent with family and friends that makes it memorable. But have you ever thought of the Stone Age people having no such facilities? They must have walked through a difficult phase of life at that time. So if we give you a chance to decorate their barren lands with gardens and fun rides, will you do it? If yes, then go on to read the instructions to do so.
Prehistoric Park is the time machine that will carry you to the Stone Age period and it will be your job to build a theme park for their people so that they can come, enjoy, relax and have a bit of fun. The Android app is compatible with Android 1.6 or later version so that most users can be a part of the journey. And don't worry; we'll get you back to the present world if you wish to; though we doubt you do.
You start with a piece of land and some money. Now, you have to buy some rides to start your park. There are more than 60 different attractions and rides including giant wooden swings, trampolines made from mammoth hide, giddy merry-go-rounds, extreme roller coasters, water rapids, exotic trees, flowers, fountains, tables and many more. As you get more of those rides to your park, more people will come, higher levels will be unlocked and more will be your earning. There is a satisfaction meter attached to every ride which shows how much the visitors are satisfied so that you can search for better ones. Don't get stuck to the initial land you borrowed. Buy more and expand your park to whatever limits you can. Even hire workers to look to the construction if you think that load work has increased.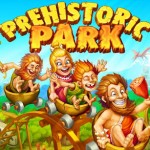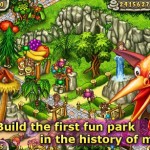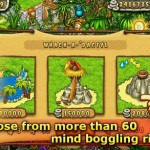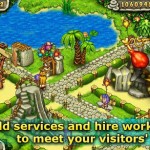 The gameplay is simple but very addictive. The graphics are really amazing and true to real-life happenings. You can see all your visitors walking down the path, resting on benches, playing on the slides and though there are a lot of elements there, it's all pretty clear on your iPhone screen as well. You can easily navigate to the different areas of your park and placing new slides is also very easy. In all, it was a very good experience as the manager.
The app is available for free in the App Store with plenty to offer for the free users. But you can also buy them coins via in-app purchases. Then go on sharing your achievements and scores with your friends on Facebook and Twitter. Label yourself on the Leaderboard and see how tall you stand against your mates.
In all, it was a pretty good experience and though such games sometimes get boring over time, we truly enjoyed it from the beginning to the end while serving for our ancestors!