Planet Matrix is created with explorer in mind. Another app game in world of ever growing gaming industry .The game is designed to involve fun and technology together ,keeping ease of use as its centre .It is categorised as an educational game that can be played with family ,friends and is easy to share scores on social media.It is eye capturing and use solid color with unique sound track having different math symbol for easy recognition.
The game is about monkey Fourier who enters the space after leaving his jungle , to explore the untouched planet matrix .In order to complete his mission he need to finish certain tasks that are designed in puzzle format with geometrical intent.The game is designed with it's own geometry and thus player has to keep that in mind while using it .The cube need to move right and left in a way that colors can combine and task can be achieved . Moving them up will lead to player's death by electric spark.This in turn stimulates the mind and player find new ways to achieve their goals , keeping one self 's alive also glued players to game.Cube are designed with different colors and math symbols representing different format of the game. The players need to use cubes of same color to achieve game sequence and perform correct maths operation.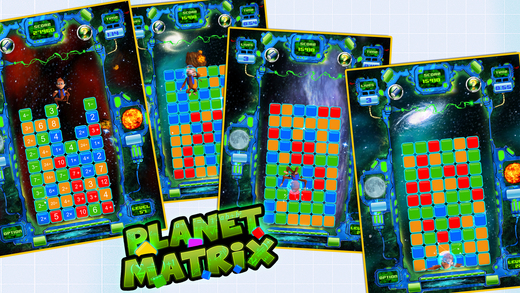 The game starts with easy levels with two basic math operations addiction and subtraction to give players the confidence ,with each level both confidence and difficulties increase. Thus having good mathematical knowledge and geometrical skills is an added advantage, however on the other hand various reviews also suggest that games like this can increase one's ability to perform difficult math skills with more ease by creating certain mind connection like road maps.Thus helping with memory and executive functioning of the mind.Planet Matrix is designed by keeping family in mind and it is therefore appropriate for all ages. It is quite colorful and eye catching for younger kids and can be downloaded on both iPhone and iPad ,this in turn can be helpful on long journeys to keep kids busy. It's a puzzle created to keep both fun and education alive. Cost is not an issue for many however due to certain elements can be quite addictive and can take lot of time, this can pose difficulties for parents when it's study or exam season.
Also in certain instances it may lead to isolation of kids by decreasing their ability to engage with their peers as more the youngsters on the technology lesser they engage but it can be curtail with good guidance.When it comes to adults it's up to them to keep an eye on watch .Sharing scores can be fun but has lead to both friends and enemies. Game features:Different level of different skills…basic to advance.Special sound effects with unique back ground.Scores can be share on social media Appropriate for all ages (but with younger kids between 3 and 7 having to use too many eye retinal cells can create difficulties with sight)Available on two platform apple app store for Apple user and Google play app store for user of android equipment.
Worth Having App – Download the App