When you were given a professional advice on online sports betting for free of cost will you miss that opportunity? Yes, using this app you can follow almost all the sports betting so closely and get all the tips about important sports events around the globe. Especially this app is very useful for football (soccer) games around the globe. Since this is the world cup season this app is the best choice for finding the best bet that suits for you. This app gives you all the latest news about sports betting right in your hand held iDevices. This app is compatible with iPhone, iPad and iPod Touch and it requires a minimum of iOS 6 or later. Also this app is optimized for iPhone5.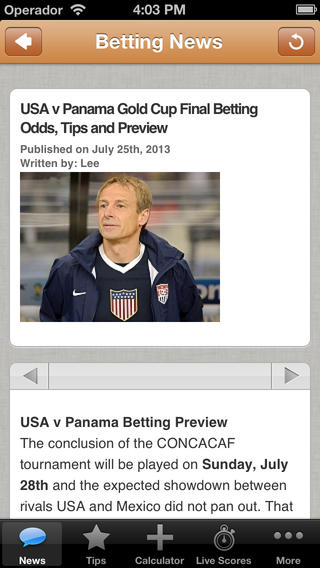 With the football World cup matches on the cards this app is very handy in getting the latest updates about each match. This app has different sections like news, Tips, Live scores, stats and Injury & Suspension news. As  the names of each sections they are self explanatory. In the news section you get all the latest news about the sports like Football, Horse racing, etc. In the Tips section you get expert advice on each sporting event, they give you tips on various odds of the game. The live scores section is where you get latest updates about the ongoing live matches. They keep you up-to-date with every minute of each match. Stats section gives you a wide range of country wise football match stats and table positions of various league and teams. The Injury and suspension news section is very accurate and they also have a section about expected return of each players from top clubs/teams around the world.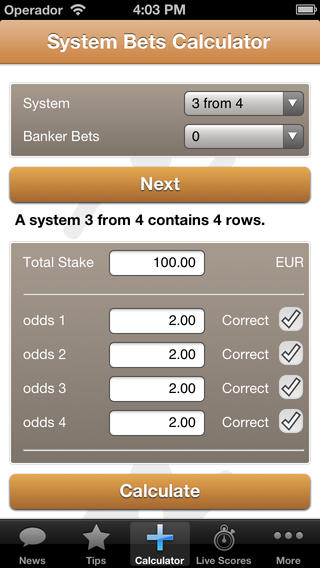 It's necessary for everyone of us who are involved in betting to refer many websites to get the latest betting odds and news about each sporting events but this app serves as a solution for all those trauma as you get everything you need in your fingertip. The user interface is very browser like so anyone would get easily adapted to this app and you don't need any guidance to access this app. This app also has a system bets calculator which is very useful and handy to estimate your stake for various odds. It also has a collective information about various bookmakers and various bonus they offer. You can organize these sections easily based on what you would like to see when this app loads by just clicking on the edit button under more section. Whenever you load this app it will automatically refreshes and gives you latest information. Also you have a separate button if you wish to do the refresh manually and pull the latest information.
Pros: This app gives you collective details of various betting tips and is very informative. It gives you the feel that everything about betting is in one place.
Cons: User interface could be improved to suit the latest gadgets as it looks very basic, browser like and gives you a blog like feel.
Worth Having Application –  Download the App