As a common man, I often worry about the oil price hikes. I don't understand why the oil prices are not constant? Why they rise and fall after a period of time? Well, the reasons may be many such as weather, market, etc. But, when there is some energy news or a change in the oil prices, we should be notified. So there is an app that provides regular updates on the oil prices. The app is so amazing and it's of great use! It's none other than "Oil Price: Energy News". It has been developed by James Stafford.
This latest version has been updated and it's compatible with iOS 10.0 or any later versions of the Operating System on your iPhone, iPad or iPod touch. It's also available for the Android devices.  The app covers so many columns such as Dashboard, Oil prices, Community, Articles and More. The Energy news covers about featured and trending stories in energy, oil news, alternative energy, finance, geopolitics and more. The oil price column display live oil prices with over 200+ blends, including WTI Crude and Brent Crude as well as OPEC blends, Canadian blends and US blend with price charts and comparison tools.
You can track over 200+ oil blends from across the globe in your personal energy portfolio. With just one-tap you can share your stock oil picks and energy new to your network. Moreover, you can discuss the new articles that matter to you the most, connect with your favorite authors, and engage with the Oil Price community on the web.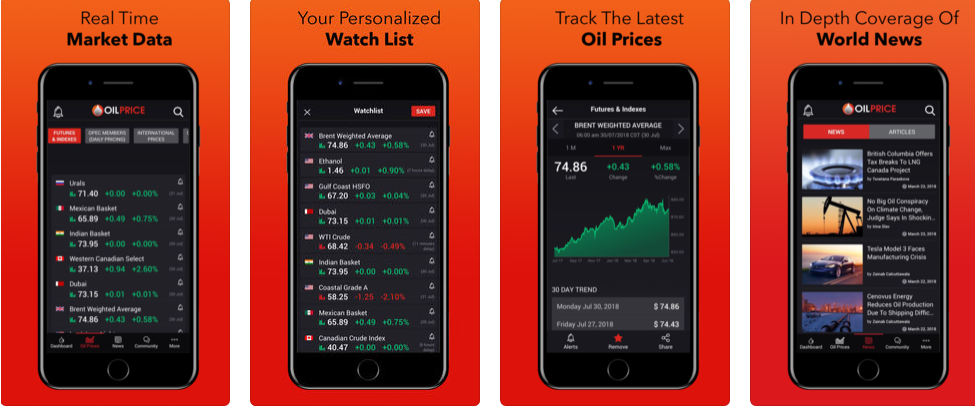 The app is user-friendly and it's intuitive in nature. Each section of the app has a different motive. You can easily access the latest oil prices, energy news, market data and industry analysis from the leading journalists all over the world. Moreover, you can find various news about the oil prices and energy using its search button and also use the bell button for allowing notifications to display oil price alerts.
The Oil Price has a unique concept and gives you in-depth knowledge of the oil prices. It's the easiest way to check oil prices via the app. The app display live updates of the oil and energy news. You can customize your own personal portfolio around the latest news, price alerts and incoming market data.
Overall, this app is one of the most reliable apps which delivers the information always on time when you need it. Oil Price works with the largest sites in financial news such as: CNBC, Yahoo Finance, Nasdaq, Fortune, TIME Magazine, Huffington Post, USA Today, CNN Money, Business Insider as well as hundreds of others.
The app is available for free on the App Store. Grab it now and access the latest energy news at your fingertips!
Pros: access latest oil prices and energy news; alert notifications about the market data; easy to use; comment, share, engage with the oil community; free of cost.
Cons: not found.
I would really like to give this app 4.9 out of 5 stars.
Worth Having App – Download the App – Developer Site