Keeping your child engaged throughout the day so that you can focus on other chores and work is indeed a tedious task. However, toys come to the rescue. Your kid spends half his time with his toys. Imagine a situation when he cannot find his toys anymore. He can think of nothing besides finding their toys again. The iOS app game O' Fish! creates a similar scenario for your kids. Keymon has lost all of his toys in his bathtub. The immediate task at hand is to fish out all his toys.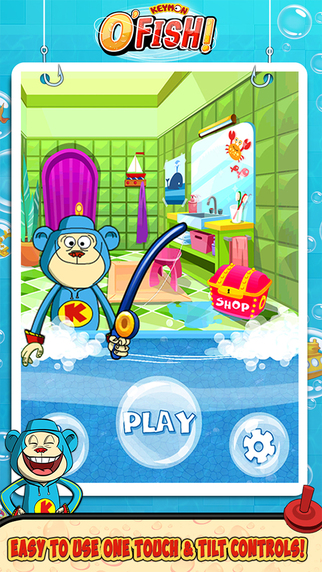 To keep your child engaged, a few twists have been thrown in. As you fish out all the toys, the water is draining out of the tub quickly. Unless you are fast enough, they are sure to get washed out along with the water. If you wish to earn more points, do not merely fish on the surface. Go deeper inside and first save those toys that are about to get washed away. Also, focus on the rare toys which Keymon is more fond of.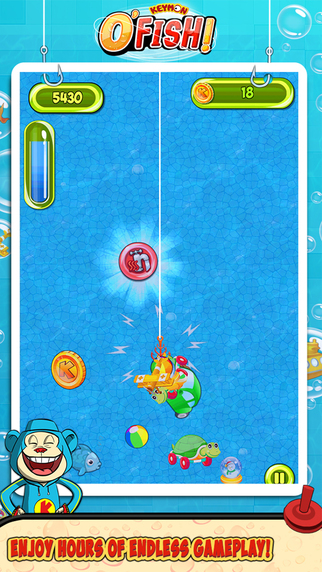 Once you get started, the game never ends. You can keep fishing forever without tiring yourself out. Another key feature of the game is that the controls have been kept simple and easy with just simple touch and tilt. However, despite this, the game is difficult to master. As easy as it is to get used to the controls, it is equally challenging to use them in the right way and at the right time.
To keep the excitement going, there are upgrades and power ups too. All in all, the game has 45 missions to unlock and 30 achievements to conquer. There are lots of rewards up for grabs too. As you set out on this fishing adventure, there are dozens of unique toys to be collected and a lot of prizes to be won. There is so much fun that you can have in your bathtub every morning with Keymon.
The background and graphics of the game are commendable indeed. With the right combination of attractive bright colors and adorable characters, this game is sure to catch the fancy of your kid. Keymon has been portrayed as a cute adorable bubbly character that your child will surely connect well with. The variety of toys and power ups add to the excitement of the game in so many ways.
Navigation has been kept intuitive and user friendly so that people of all ages can enjoy this game. If you wish to make more of this app, there are in-app purchases that you can buy with real money, varying from $0.99 to $49.99. The game also has push notifications for updates and ads from many third parties, both of which can be very distracting.
All said and done, this game has a lot of fun and excitement to offer for free. The graphics and simple controls make it enjoyable and worth playing. If you have some spare time to kill, this game is a must have.
Good: Graphics, variety of toys and power ups
Bad: Third party ads and push notifications
Worth Having Application –  Download the App