In most cases, iPhone users tend to customize different interfaces on the screen of the phone in order to have a quicker and faster access. NC- Twitter Widget for notification center has brought the ultimate solution that will be a major boost to those who get informed about the current life trends. The version 1.1 app was last updated in July, 14th, 2015 and has incorporated an additional feature that has made it unique in its own way.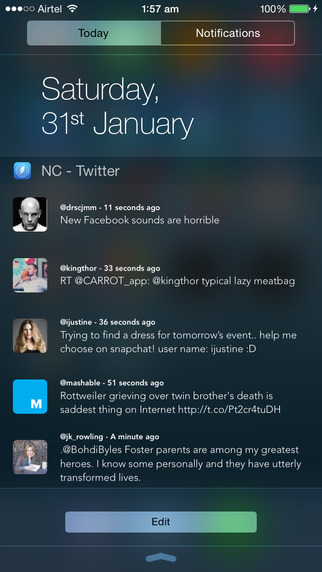 The English-based app is purposely designed for iPhone, iPod Touch and iPad where such devices will need to possess iOS 8.0 or any latest operating system. So far this top rated app from Apps Genie Ltd has received positive feedback from twitter users. This is due to its simplicity in delivery of notifications compared to other tweaks which tend to jailbreak the iPhone devices.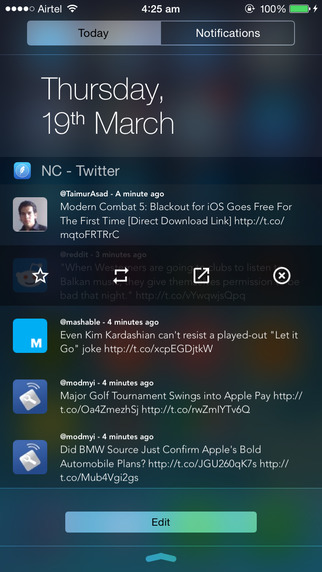 How NC app operates 
This is an excellent app that allows the user to check for updates on timeline and different mentions just from the notification centre. This happens once the twitter widget has been incorporated on the Notification Centre. Such notifications and feeds can appear on top of the iPhone lockscreen or even within any app without necessarily having to jailbreak.
Amazing features of the NC app
Checking the latest tweets from NC
This great app has the capability of enabling one to view about five latest tweets just from the Notification Centre. Actually, it has integrated the twitter account where an individual can also get the chance to check on the recent five mentions; this can be facilitated from the settings of this NC app.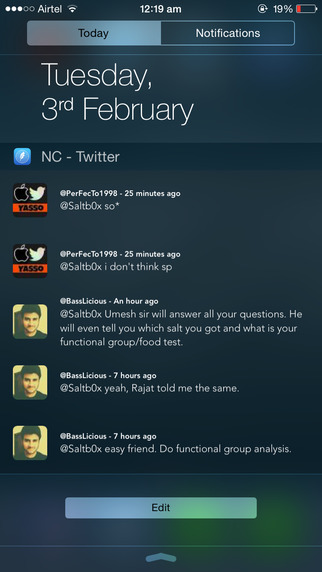 Easy access to Twitter account
Once the NC has been downloaded (its size is actually 35.8MB) and installed in the iPhone or iPad devices, an individual can reach out for twitter account in a convenient way possible. Apparently, the NC app enables the user to launch a twitter platform either from the inside of any app. The ability of even tweeting from the lockscreen makes this app incredible.
Retweeting, selection of favorites and creating tweets
Actually, all these twitter activities are fully facilitated by the NC app. Once an individual has brought up the Notification centre, the twitter widget is able to refresh and bring up new updates of the latest tweets and trending. This implies that one will be up to date with different news, quotes, mentions and different facts. Every tap of a tweet exposes the user to different options; this includes selecting the favorites, Retweeting and composing of new tweets.
For those individuals who don't have the twitter official app but they have installed the Tweetbot, this NC app can make adjustments and automatically default to that Tweetbot.
Pros
It facilitate quick access to twitter account just from another app or from the lockscreen
Saves on time when checking for different happenings and trending news
Great graphics and good support in relation to landscaping features
Amazing font size that has improved display.
Easy to use
Cons
Infrequencies in performance especially where the user need to provide credentials
Conclusion 
It is clear that the NC app has come out as an exceptional product for twitter widget. It has proved its uniqueness in facilitating quick, convenient and easy access to twitter account. It can be downloaded at $9.99 only from the iTunes. It is a great app worth trying for any ardent twitter fan.
Worth Having App – Download the App