Musations Ltd has launched the latest and improved version of their revolutionizing musical application Musations. The app is a unique one in the arena and operates along a unique theme which makes it special in every way. This application is a must have for the music lovers; and can be a great way to have fun chats, or discussions with your friends and loved ones. Musations gives you the chance to express yourself to your friends and followers in a simple and fun filled way through songs; the app enables you to use the power of music to do the toughest task of the world "expressing yourself" in a perfect and admirable way.
Getting along with Musations is simple; you only need to choose a song with the particular lyrics for use and mix it with your message to create a unique Musation. Different features of this exquisite app are given below.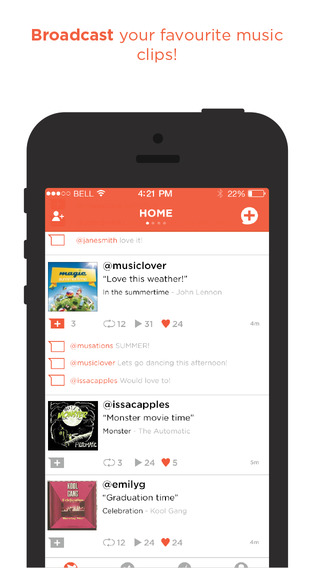 Features:
Musations is a revolutionary way to express yourself with the help of music and can be a great tool to add a new dimension to your image within friends and followers.
The application has an extended song library with over 37 million songs. For ease of searching lyrical search has also been added.
The program supports creating your own music library and selecting music directly from it.
The Musations can be broadcasted within the followers, or can also be used in private chat. So the app gives you high flexibility of use.
The application comes with repitch option which enables you to copy the Musation of a friend that you liked, to your own feed and helps you for a faster and expressive communication.
The app supports following celebrities and exploring their music libraries in a more elaborate way.
The latest version of the app launched is 1.12, which just got released on July 30th, 2014.
The latest version comes with new Walkthrough, added help, and increased performance for iPhone 4 and 4S. Video help has also been added and now a single tap on the album is all that you need to share it on the network.
Musations come with a neat front end and simple controls for facilitating quick use.
The app is presently available only in English and takes 20.3 MB space on the memory drive.
Musations need iOS 7 or later to run smoothly. It is compatible with iPhone, iPad, iPod touch and is specially optimized for iPhone 5.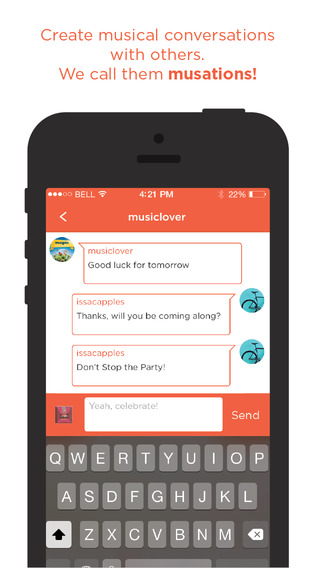 Summary: Musations has just launched the new improved version of their revolutionizing musical app Musations in the iTunes app store. The application enables the user to use music to express their words and feelings in a simple and comprehensive way. The application has a bundle of features that add to its usability.
Good: The app is no doubt unique and can be a great help to make the right impression within friends. It has simple and uncomplicated control, and is now available for free of cost.
Bad: No negative reports about this amazing app have yet been recorded.
Worth Having Application –  Download the App