The App Store is full of lots of amazing apps that we don't have to go anywhere else for entertainment; you'll get everything at your fingertips. If you want action and adventure; then download an endless running game. If you want to play puzzle games, mind games, online casino games or any kind of games; you'll find hundreds of them. So whatever you want and look at the App Store, you will find that a lot of gaming apps will appear. But, do you know we are still missing something in those games and we don't even realise it until we play such a game. So I have found one such amazing app called Marble Jetpack. Let's find out what's so special about it that we didn't even realise that there is a new dimension still unexplored.
The latest Android app called Marble Jetpack has been developed by BB Electronics, LLC in the 'Adventure' category. The app is compatible with all the latest versions of the Android Operating Systems. Once you download this action-packed game, start playing by choosing the marble skin and just navigate around the obstacles. The main mission of this battle game is to protect yourself from the obstacles and navigate around them. You can roll and blast through the air with your Marble Jetpack, while collecting and shooting down all the stars and enemies in the level.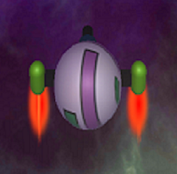 There are so many levels of the gameplay and each one has its own importance. In the arcade level you need to be fast and complete the level before your time runs out. These levels also have checkpoints to save your current spot in the level and add time. These checkpoints can be reused as well. In the level 2 of the arcade levels, power ups are added to help aid in finishing a level. The levels of the game are easy yet challenging and get more difficult the further you go.
There is also an inventory section in the app where you can see what items you have available in the inventory section as well. There are different marbles with the changing marble skin in this inventory section and you can choose according to your choice. There are so many features of this amazing adventure game such as it's full of fun and entertainment. It's a super-addictive, exciting game of Marble Jetpack. It will keep you hooked for so many hours and relax your mind and body. Another selling point of Marble Jetpack is that this is an arcade game.
Overall, I would say that Marble Jetpack is one such app that all of you should download. It's apt for everyone and there is so much content in it that you can't afford to miss it! So play the game now and see if you can roll and blast your way to the next level in this exciting game of Marble Jetpack.
Just go for it!
The app is available for free on the App Store.
Worth Having app – Download the App