Maid de Camera is the iPhone application where you can take your own photo with the Akihabara maids even when they are not physically present besides you. The application has only one screen where you choose one of the maids to take a photo with. There are twenty cute maids in the gallery for you to choose before you press the camera button to strike a pose with "them".
When the application is in idle mode, it will display your latest photo with the maids together with the current time in your country. I figured this will be one of the nice lock screen wallpapers to have if you placed your iPhone on your desk and your colleague just walked past your desk and saw the photo. The application is an interesting subject to talk about among your friends and colleagues. Once you have completed taking the photo, you can decorate the photo with make-believe love, ribbons, flowers and cherries. You can also add custom text inside the photo to maintain your copyright of the photo.
Initially when I first started using this application, the app crashes a few times on my iPhone. I have to power off my iPhone to recycle the memory usage in order for this application to work properly again. After that is done, I have no problems starting this application. There is no real use for this application other than showing off to your friends that you have a cute maid waiting for you at home or make them believe that is your girlfriend.I presume that the Cosplay community may love this application as it gives ideas on how to pose as a make-believe Akihabara maid and how to dress like one.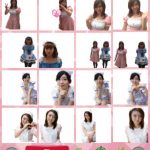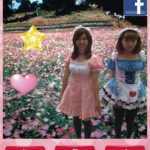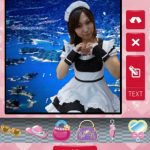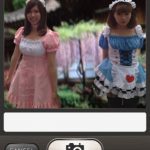 Overall, I feel that this application should be marketed for Cosplay fans and have more Japanese maids I can pose with. Twenty maid photos can be easily used up after some time. In my opinion, this application is more suitable for girls to use as it is catered to the fashion and dress sense of Akihabara maids. Guys can use it too but the interest may wear off soon after their friends know that the photos taken with the maids are not real. If you are a Cosplay fan, you will have no qualms about using this application on your iPhone. Otherwise, it will have no real usage except for entertaining your friends or colleagues.