It's a cruel world and we get only tiny bits of happy moments that we must enjoy in the full flow. Music is one such thing that can make silence go mad like thunder. It drives your body with the flow and you just can't stop it. When the notes hit, the silence fades away like fear when the sun shines! Thanks to these music stores where we can access music from all around the world and listen to our favorite artist. But even if you're not a hardcore fan of the art of expressions, you must have heard of Spotify, the online store of thousands of songs. Spotify actually allows you to stream live music online available from many carriers such as Sony, Universal, etc. But the PC app isn't the right thing for a morning walk. So, let's turn it that way then!
Neuron Industries have released a new iOS app, M2S for Spotify, that's been compatible with iPhone, iPod touch and iPad and requires iOS 5.0 or later version of software. The app is centrally headed as an accessory for the Spotify users. Spotify is similar to iTunes in the way that you can create playlists and share them. But what if you want to import one of the playlists from your iPhone to your Spotify account? Obviously entering the song names one by one isn't the solution we're looking for. Confused? That's where the app comes handy.
It is a simple wireless data transfer kind of app, but a little fast. Suppose you have a playlist on your iPhone. Open the app and it will take you to your iTunes library. Then, click the playlist you want to import (or you can mark some songs as well). Then, following the confirmation, all your playlist songs will be added to your Spotify account almost instantaneously at a speed of 10 songs per second. This account can then be accessed from your PC as well. But remember, we said playlist and not the song itself. While sending, the song name is matched with the Spotify database and then entered in the Spotify library.
The app doesn't have any user interface. It's only like software which needs to open up only when the job is to be done. Other than that, it is nothing. But it's really easy to use and performs exceptionally well under the real-life conditions. It is iTunes Match compatible as well so you don't necessarily need the playlist on the device itself, it can be synced from a cloud service such as Dropbox as well.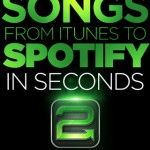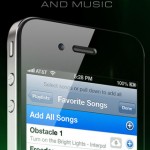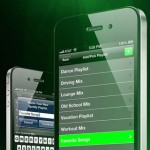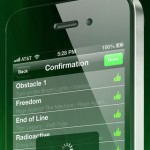 With a regular price tag of $1.99, the app is currently on sale for $0.99, a real steal offer. It has been highly recommended by most of its users. But you might suffer some hiccups while digesting the whole story. First, you need a premium Spotify account which will cost you $9.99 per month. Then, the data transfer rate depends upon your internet connection. The speed might suffer due to low connectivity. Also, as the list is being matched to the Spotify database, there are chances that you might get a different song added than the one you wished for.
So, if you are clear with the above conditions, you're good to go. Best of luck and enjoy!