I own a small business and it so happens that I have to send messages to my employees now and then. I cannot bother my subordinates to send texts if they are out of their working hours. This app has helped me to do this with just a few clicks. It is a great boon as I can put together all the texts that I need to send and get them delivered in one click. I need not have to wait until next morning. I can just put a timer and send them using this incredible app. Yes, the Scheduled App helps you to do all of this.
Scheduled App is exclusively designed for iPhone by the seller Scheduled. B.V. and the best part about this app is, it makes the herculean task of rescheduling your appointment with clients so simpler. Making use of this app, you will always be the first person to wish your family members when a big day comes up. Coming with a neat interface, the app helps you to auto-send texts, resend them, schedule them for a later time, delete, archive, snooze, skip or repeat them. Not only for businesses, but it also helps you to make your parties and big days more memorable as you can send gifts and flowers with it.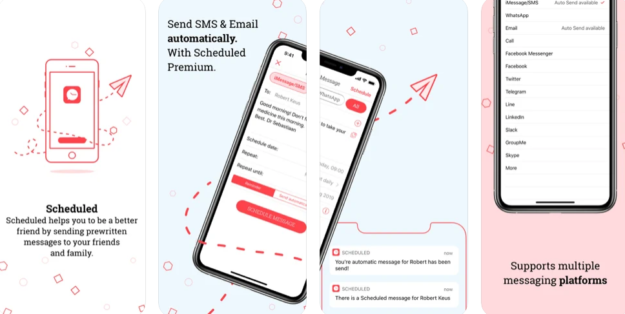 Scheduled App reminds you of the notification so that you can select your favorite messenger and get a notification when your message was sent successfully through auto send. Users can send their messages using WhatsApp, (Facebook) Messenger, Telegram, Slack, GroupMe, Skype, LinkedIn Line, Twitter, or iMessage.
I have used Scheduled App to compose a whole lot of texts and send them to more members. The app has helped me use it for business texts where more members can be added. I was able to use a virtual number instead of my number to send and receive messages. A detailed signature can be put along with the texts where you can also choose to add your phone number and text that as well. The app has helped me to resolve the no-show issues that happen now and then with our kith and kin. I chose to make the in-app purchase for more texts and credits and I feel so happy about it.
When we all live in a digital era where mobile and technology play a prominent role, we cannot ignore this awesome app. It would be a perfect solution when it comes to bulk sending of texts to your customers and personal reminders to your family. The app is suitable for people of all age groups. It is compatible with iOS 13.0 or later versions. The premium and business subscriptions offer exclusive features that are priced at $3.99 and $4.99 respectively.
Worth Having App –  Download the App