LEO privacy guard for iOS is the most trusted and convenient protector for your personal photos and videos. It is designed to keep whichever apps or contents like your SMS messages, photos, videos you want safe from the prying eyes of others. Whether it's your roommate, colleagues, a paranoid partner or just kids, LEO privacy guard will do it all for you. All your photos or videos can safely be hidden in privacy guard by your own password, pattern or fingerprints. Then you will never have to worry about unauthorized access and daily phone checks by gossip fingers.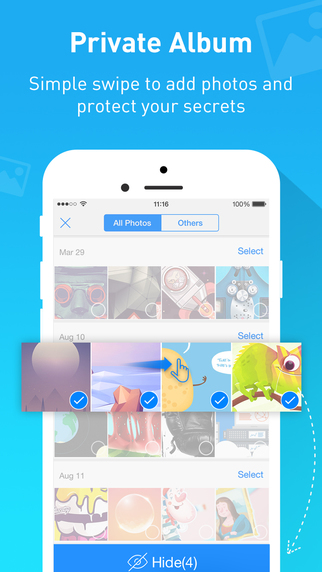 LEO privacy guard makes it simple, elegant and easy to control, monitor and secure your data. Just like its Android counterpart, this app seeks to ensure your data security is as good as possible. It effectively does this by putting the focus on a few key areas of concern namely: photos, credit cards, QR codes and other sensitive text based data points. The app is also full of stunning animations and easy to manage menus. Just like its Android counterpart, the app wants to do more for you, than just keep your data hidden.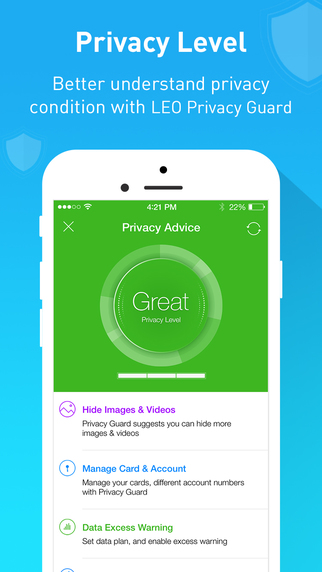 Features of LEO Privacy Guard include:
Privacy password- You can now protect your personal data in three different ways: PIN, dot lock and Touch ID.
Privacy Level- enables you to understand your privacy condition so that you can better protect your personal data.
Private album- This feature enables you to import your private photos and videos clips from the phones album into a private album. The transfer can be completed in just a simple swipe.
Private Camera for snapshot passing moments under covers and seamless savings into the private album. It also allows for fast access to private camera from notifications.
Safe Box- You can now save your personal information into safe box like a credit card or a membership card.
Device monitor for monitoring data usage and battery condition in real time.
Safe QR code reader- safely scans all kinds of QR codes and bar codes. Scanned histories are also under protection so that only you can read.
Apple watch Support- You can now unlock your secrets with a tap on wrist or remotely control by your apple watch.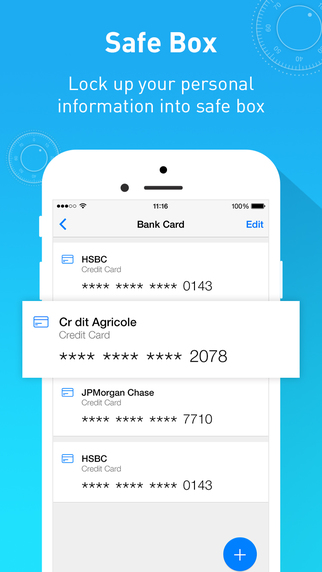 LEO privacy guard is also totally free which is what most people appreciate. Though you won't get speed boost or block unreal calls, what you get is a stunning, solid security app for the iOS platform. Want to keep your login details away from annoying snoopers? Just get LEO privacy guard and enjoy your galleries with no fear of unauthorized access.
What's New in Version 1.6
Enhanced QR code scan function- you can now scan e-card and save to your contacts.
New UI design for monitor- you can now control your battery and data usage in real time.
Optimized user experience and fixed bugs.
Compatibility
LEO privacy guard is compatible with iPhone, iPad and iPod touch. It requires iOS 7 or later.
 Worth Having App – Download the App