Are Feeling Bored at home or packed with work? Are you looking out for an energizing game? Then well you have reached the right destination. Why not try James's endless runner game? This game makes you feel active, energetic, and refreshing. This game is cheaper and doesn't require more time. This endless runner game has become quite popular because of its simplicity and challenging nature. The quick instructions and user-friendly icons help to play actively with a lot of interest. Some studies have proved that online games improve hand and eye coordination, motor skills development, and improves problem-solving skills so give it a try!
Top game in the subway category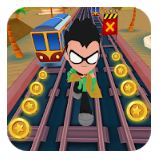 James's Run Endless Runner Game is a 3d game with HD quality and cool animation effect on the subway in runner environment for gaming lovers. These unified features make the environment lively and realistic.
This arcade racing game does not require much learning time and ends up with a lot of fun and game lovers will bubble with energy throughout the game. A user-friendly control panel helps to play the game without hassles.
This game is added with multiple levels to increase the curiosity among the game lovers and finally to attain the targeted level.
The hoverboard maintains the score based on the coins and gifts collected.
The setting panel can be set based on the preferences like music, sound, curved world or sensitivity
There are three animated characters in the game. The user can pick the characters based on their interest and mood.
The game's mission is to collect coins and gifts irrespective of the hurdles or obstacles just concentrate and run to reach the destination with all the gifts and coins and collect a gift at the end of the game.
James's Run Endless Runner Game 3D features
Smooth control and easy to access –
Swipe control, Run, Jump, Slide and left/right to avoid hurdles
Easy to play and move fast
Rush as fast as you can or you will lose.
Collect more and more coins to get higher scores
Addictive non-stop Endless Running Game
Colourful mission and unique Gameplay
Multiple characters, environment and missions
High-Quality Graphics and cool animation effect
Different bonuses and rewards get you one more chance
Available in offline mode
Best running game forever
HQ Graphics and cool animation effect
Unique Gameplay and quality work
The game supported by ads, rewards, and IAP
You can unlock character and hoverboard via coin and IAP
Watch the video to get one more chance
Direction to play : 
Swipe control to turn left, right for position changed
Swipe to jump up
Double click to get hover-board
Swipe down to get the slide
Final Say ..get yourself engaged with this interesting game and why not have all the fun with the quick run with  ' .Download right now with just a click away from the play store in your android phones.
Compatibility – compatible with  all the Android devices