Smartphone apps have enabled users to make money in various ways. People who get bored of high-end games want something else to keep them entertained. Some games are not meant to be fun but to help you learn more about sports, medicines, languages, and entertainment media.
These types of games are called quiz games or trivia games, and people have been playing them on iOS and Android for a long time because most people have a greater interest in learning. Apps like iPrize can help people make money in a variety of ways. Some popular ways to make money through apps include playing games and taking quizzes, which can reward users with bonuses and rewards.
The best part about this iPrize app is that you can also make games out of it. Whether for group activities or just for fun, you can create quizzes and trivia challenges to invite others to compete.
Key Features of the iPrize App
Generate Customized Contests                                 
The iPrize app lets you create contests with your friends. Each person who wins your contest will get 100 reward points. To start a contest, you must select a contest category, type, and name and add details such as the number of participants (minimum 30), the contest description, images, the starting point, and the finishing point. After filling out the contest requirements, you will also need to enter your email address.
You Can Pick From 10 Different Categories to Choose From
The iPrize for iPhone and Android offers different contests to choose from. These contests can help you learn about other trivia topics or help you create different kinds of games. Some contests available through the iPrize mobile app are beauty, humor, creativity, fauna, food, and talents.
Create and Host Quizzes and Competitions
You can easily create and host quizzes for presentations or fun with friends. These quizzes can also help you improve your brand awareness by allowing you to create quizzes for advertisements. Creating contests with prizes also enables you to gain more attention to games and topics you want to promote. To summarise, you can invite people to play while providing them with topics that raise brand awareness and reward them for winning the game.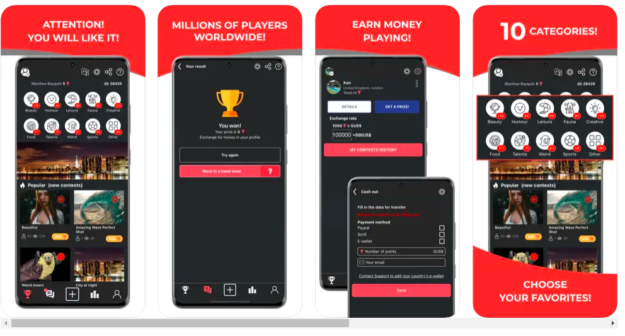 Points Can Become Real Money
Earning money on this iPrize for Android app is simple, even with free quiz games. You earn reward points for all quiz games and trivia you win on the iPrize for iPhone and Android. When you have enough reward points, you can convert them to real money and withdraw them to your account using the iPrize mobile app.
For example, in the United States, you can withdraw your quiz rewards and earnings using PayPal, Skrill, or an E-wallet. You must enter the points you remove when prompted by this app with fun quiz games, and this is how you earn real money simply by answering questions.
Available In Six Languages
Even if you actually do not speak English, you should be able to participate in the quiz and earn prizes through the iPrize app. You can use the app in Russian, English, French, Turkish, Spanish, and Portuguese to make real money.
Developers of this iPrize for Android and iOS app plan to offer partial localization for Germany, Italy, the Netherlands, Japan, South Korea, and Malaysia, as well as complete localization for China, Japan, South Korea, Vietnam, and Thailand, shortly. As a result, more people will be primarily able to take good advantage of the opportunity to play quiz games and trivia for rewards.
Merits of iPrize App
The iPrize fun quiz games are free to install and play and are user-generated content. There are over 100 quiz games available online, and the community is supportive and creates more games daily. There is a simple user interface; the categories include things like history, science, geography, and more. Millions of players from around the world enjoy playing these quiz games.
Final Thoughts
The iPrize app is an intriguing but well-thought-out initiative. It's the skill to entertain but the possibility to advertise a brand in a single app is a brilliant idea that its founder thought.
This iPrize app for iPhone and Android has an exemplary user interface and enough features to make it an appealing option for the user. If you are fascinated by this iPrize app and ready to play some quiz games online, it's time to install it on your smartphone without giving it a second thought.