Having trouble in searching contacts when you have a huge list? Are you frustrated if your contacts are lost or saved on another accounts. Sometimes, the contact is saved in your phone, but you may not be able to see it. It may be synchronised with your Google account or your device's account or on any of your Sim cards, etc. You may forget to save contacts on the same path where other Contacts are saved. Recently, I got the same problem. I was searching for my friend's contact number and when I searched it was missing! I was really shocked and worried how I will get the number again! So I looked into my Contact's setting and imported contacts from the SIM card, but I didn't get it. Again, I changed the settings of the Contacts and the Sync with the cloud was switched off. So I turned it on and got the contact. I was really happy to see it again. But, this really distrurbed me and wasted a lot of time while searching.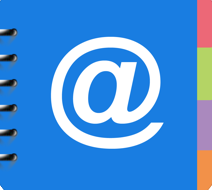 So to get rid of all these problems, I searched for a contact manager on the web and I got something really amazing! It's a utility app known as "iContacts+: Group manager" which has been developed by Jeonghwan Kim.
Contact data is valuable information to you. Once they are deleted that can't be reverted back unless there is such a tool to get them back. But you can manage your contacts easily before this happens. So this contact manager uses the system data and works correctly and handles your data securely. Sometimes a person has two or more contact numbers so you can group them under a common contact. You can create several groups such as a group of family, friends, officials, and others. You will not find any difficulty in finding the contacts when you create a group. The app organizes multiple contacts into multiple groups at the same time. The contacts are synchronised in real-time. Most of the tasks can be processed quickly with multiple selections of contacts such as you can copy or move contacts between groups.
The app offers advanced contact search function where you can extract optimal data by specifying phone number or name as a search method. Moreover, you can search for the initials in Korean language including double consonants. Once you've created your group, you can select multiple contacts to send a message at the same time. To save your time they provide separate message writing tools for a convenient input.
The features of iContacts+ do not end here. You can delete contacts in bulk, backup and restore contacts by group, receive backup data by email, extract and organise contacts into various conditions, easily call and send messages to frequently used contacts, you can use smart search dial and speed dial for your important contacts.
In short,I would say that iContacts+ is a brilliant way to organize and manage your contacts safely and securely. Without any if and but, you can download the app from the iTunes Store now! It's available on a very cheap price @ $1.99 only. Get it now!
Worth Having App – Download the App