The world is about to turn into Hell. There are all monsters here. The human race is fighting hard to survive but the chances are very few for it to see the light of the day. The monsters have started to convert humans into one of their own kind by biting them. So while the remaining lot of humans wants to attack the monsters and defeat them, they're still fighting on a defensive note. The leader of this small group of humans is Hal and he gets frustrated from the entire waiting period and finally decides to fight on his own. He leaves the pack and attacks the monsters. He manages to kill a few before the sun finally dawns upon him and one of the monsters digs in its teeth into his neck. Now Hal is infected and one of 'them' and needs to be fed human brains. So would you help him?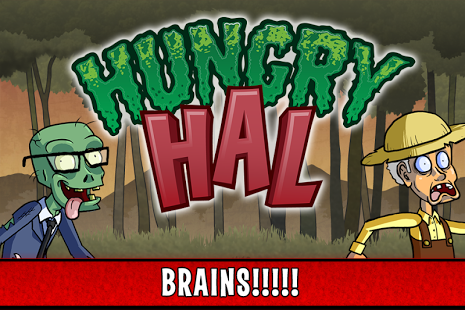 Hungry Hal is the name of the new Android app that has been developed by ELF Games. The app is compatible with all the devices running Android 4.0 or any later version of the OS.
Hungry Hal is a fun endless running game where you have to help Hal to eat as many humans as possible to keep his brain running. After all, it's the only fuel that he can survive on and must get it on time or you'll lose Hal, an innocent human-turned-human eater. But as eating humans gets his brain running, hitting any obstacle will get that meter down and you must avoid them. But eating humans is not the only aim you have in this game. You have to collect bones as well and if you ask me what's that for, then they'll help you buy some power-ups from the in-app store. Power ups such as a scooter so that you can go faster, eat faster and grow faster. There is a slow motion timer as well that will buy you time and when time's money, you know you're going to be rich!
There are three different paths to follow and a swipe of your finger will change that. It's a 2D game and therefore it's much more like a side-view of the race rather than the front view which we're normally used to but it manages to keep the fun quotient high. The graphics are nice but crazy. I mean the way all these characters including that of Hal have been designed make you smile instantly. The way Hal runs and the sounds in the background when he eats them are all funny and admirable. After all, when you're running with such an in-human script in hand, you must have good dialogues and actors to make the audience come, see and appreciate it. And I think this movie is superb!
Hungry Hal is available for free in the Play Store. So if you want a copy of it, do visit your nearest Play Store now.
Pros: funny animations and sounds; addictive gameplay; upgrades; power ups; free.
Cons: none.
Worth Having Application –  Download the App