Word games are more popular these days as it will help to improve any ones IQ power. Some word games comes in the form of puzzle which will make you think more. Some word games are very simple and straight forward. One such simple game is "Hooked on Words". This game is very simple and elegant even in the design. All you need in order to play this game is just an iDevice. If you have any iDevices like iPhone , iPad or iPod touch with iOS 5 or later then you can easily download this game from App store for free cost. This game is well optimized for iPhone 5. Hooked on Words has a very good and simple user interface which allows anyone to learn and play this game very easily.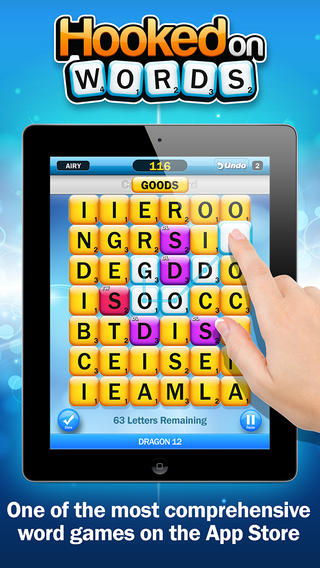 As a single player you can play various modes like Standard mode, Timed mode, Collapse, Scramble and Extended mode. The Standard mode is very simple where can uncover as many words as you wish. Each time you form a word the letter tiles you used to form the word will be vanished. You could play the standard mode until you run out of the letter tiles. The Timed mode is very similar to the standard mode but the only difference is you have a challenge to complete the game within a time frame. So you get option to frame as many as words until the timer expires.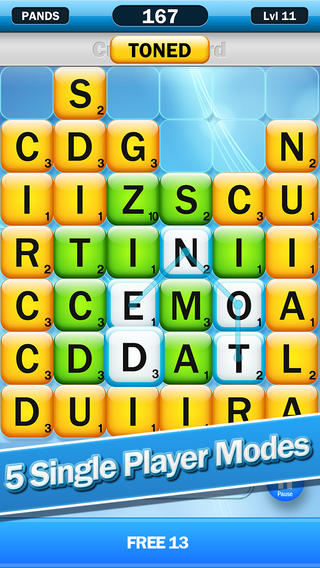 In the Collapse mode initially you will get a bunch of letters tiles ad you have to clear them by forming words. The letters tiles will keep on getting added to the block. All you have to do is frame as many words as possible and clear the letter tiles. The Collapse game mode will be over if you allow the letter tiles to hit the top of the block. In the Scramble mode you will get a fixed set of letter tiles with the entire block and these letter tiles won't disappear even if you form words. You can form as many words you can in the Scramble mode.
This game is well integrated with iPhone's game center where you can see other player's scores and rankings. You can compete with them. You can easily keep track of your game achievements. You have a separate Leaderboard for each of the game modes, which will be very helpful to know your strong word skills and compete with other players around the globe. With the easy integration of Facebook and Twitter you can connect with your friends and challenge them for a game.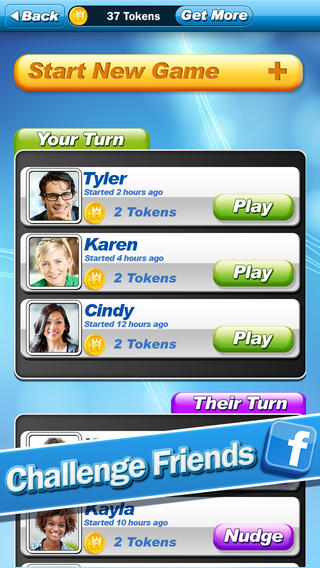 Pros: This game is a medium for sharpening the players IQ power with new words. Kids will love this game and parents will love the knowledge, the kids gain in the form of game. This game is a very good entertainer and a simple way to kill your bored time.
Cons: Annoying advertisements will pop up before every game is the biggest disadvantage of this game. But this game being available for free you can't avoid these advertisements. If you wish you to remove these advertisements you have several options in the in app Word Shop. You can spend $2 or $3 in the in app Word Shop to remove these annoying advertisements.
Worth Having Application –  Download the Apps