Gaming has just become even more interesting with the launch of the latest word game WordHeist on iTunes. This iOS app offers the pleasure of an ultimate word game. A game of words is not really something new for the active gamers, in fact there are already enough of them; then what is the USP for this new one? And why we are describing it as the ultimate word game? One can realize the truth behind the claim only after going through the features of the game, and exactly what all you can do in this word game. WordHeistplaces you and your competitor in a race against time; and you can select as much as 3 competitors to feel the real thrill. There are even more, players can even steal words from other players to earn those extra marks. The game not only calls your word power into action, but also tests your reflexes.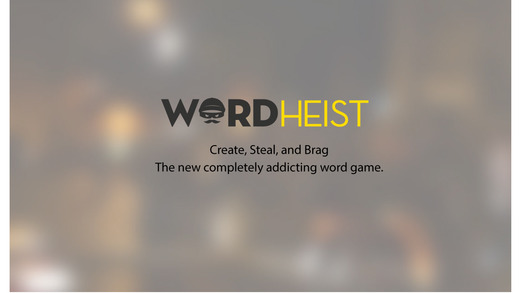 Features:
WordHeist is a word game which at the core needs you to make words from the tiles appeared, within a given time, while competing with others. The word stealing part of it is really unique.
The game shows your world ranking and skill level which can be really great to add more interest.
Three different game modes are available in order to suit your mood for the time.
The Live mode enables you to take on as much as 3 other players and compete against the clock.
If you are not really in the mood to take the pressure, you can try the turn-based mode and steal words from others at your own pace; and you can invite as much as 3 players to lose.
The Practice mode is particularly designed to sharpen your skills. This can be very helpful to prepare for big games while enjoying the pleasure of playing.
The game has mixed the charm of a word game with the charm of a strategy game where you can steal to fill your own bucket; which is really unique.
WordHeist has just released on 20th Nov, 2014; so you can be the first to tell your friends about this amazing game.
The game is now available for the English language only.
The app needs iOS 6.0 or later to run. It is compatible with iPad, iPhone and iPod touch. The application is optimized for iPhone 5 and takes only 32.9 MB space on the memory chip of your device.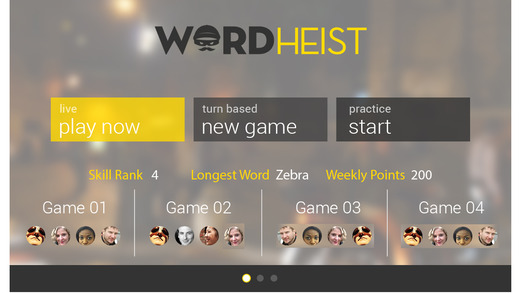 Summary:WordHeist is a new word game with a twist. This game puts you in race against time while competing with 3 other participants, and also encourages you to steal their words and add to your status. In brief, it is a complete entertainer.
Good:WordHeist has a great new concept and allows you to play against your friends to multiply the joy of gaming. The app is also available for free.
Bad: The game has just launched, and no bad report has been received yet. It has been rated 4+ on iTunes.
 Worth Having Application –  Download the App