Tipping service staff can often be confusing. What is expected? How much is too much? Using a Tipping app is one way to assist you with this, but with tipping cultures changing from country to country and industry to industry, which app is the best to help you?
Not knowing the right amount to tip myself, I decided to test out such an app. I chose Gratitude Tipping, which has many positive reviews in the Appstore and Google Play. Boy, was I surprised! Not only has this app made my calculations easier, it also has a feature for various other services.
Talking about services, let me walk you through the app in details.
The interface of the app is the first thing that you would come across. It is smooth and stylish, the background is a perfect fit considering the app says it caters to your needs throughout the world. Once you register and log in, the app will coordinate your location and identify where you are.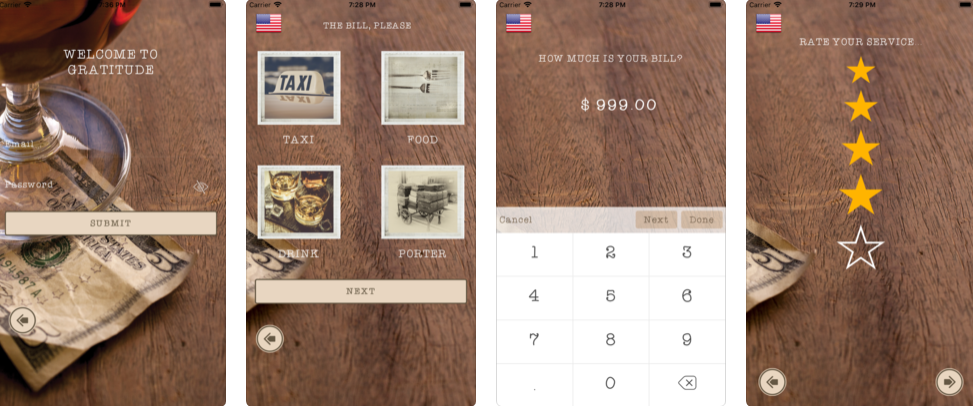 Then, once you have confirmed your location, the app has four kinds of services for which it calculates a tip.
The four categories are:
Taxi
Food
Drink
Porter
As I scrolled down and tried my hand at all of the four services, I noticed that, dependant on the level of service you received, the app adjusts its tip suggestion for you, be it to round up the bill or to give a certain percentage.
When it comes to food, the calculation changes. The app suggests various amounts to tip based on the tipping culture of the country you're in and the level of service you have received. It also identifies countries where tipping is not necessary.
The porter option is based on the number of bags you have. If a tip is expected in the country you're in, the app will calculate how much you should tip per item of luggage.
The app provides a brief introduction to the country that you are in including, but not limited to, statistics, local dialect and major tourist attractions. It also lists a few words in the language of the country for you to familiarize yourself with. Apart from this, it also brings forward the main cuisine and drink that one must try when there. Even though its trivia, knowing something about the foreign country one is vacationing in is always beneficial.
Coming back to the app, we have listed the pros of the app. It is time to see the cons. The calculation levels could reflect a poor service more accurately, as it still suggests a tip that some people may consider to be more than what their experience merited.
All in all, it's a very good tipping app if you are always wondering how much to tip and if you travel a lot.
Worth Having App – Download for IOS – For Android – Website