Goblin – the word reminds us of the creepy creatures that we have seen in movies like Lord of the Rings and Harry Potter. Their character has a certain grey shade to them as it's never known whether they are good or have some hidden self-motive. Sometimes they are afraid to look into your eyes and the next second you see them feeding on the blood of the guy standing just next to you. But no matter how much confusion is there regarding their character, one thing is for sure that whenever they're on the screen, magic is about to flourish. They are the home to some of the best magical powers in the world and now that we have them on our iPhones, nothing usual is expected. Let's go straight in their den and find out what they're doing.
Golden Goblins Pro is the new iOS app that has been developed by Njoyo Ltd. The app is compatible with iPhone, iPod touch and iPad and requires iOS 5.0 or any later version of the OS. This app has also been optimized for iPhone 5.
One thing that I forgot to tell you about Goblins is that they are way too fond of gold and it's priceless to them. So this app is all about Goblins fighting for their gold. But they are fighting with? While the Goblins are always small in size, they are fighting with some of the biggest flying creatures that you'd have seen. There are flying rodents with evil-like shining eyes and mosquito like creatures who seem to be as big as a dragon. Though you have a gun to shoot them dead, not all of them share this feeling. So while you keep shooting at the bigger ones; they'll still come at you and finally, you'll have to change your lane or otherwise, they'll change your fate.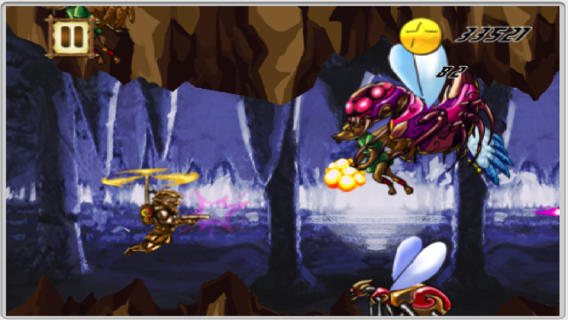 Amidst all this action, don't forget to take your coins because that's the sole reason your life's at stake. Moreover, you can use them to change your beloved goblin and choose a different one. There are many options such as Chopter, Flipter, etc and you can choose anyone depending on your preference.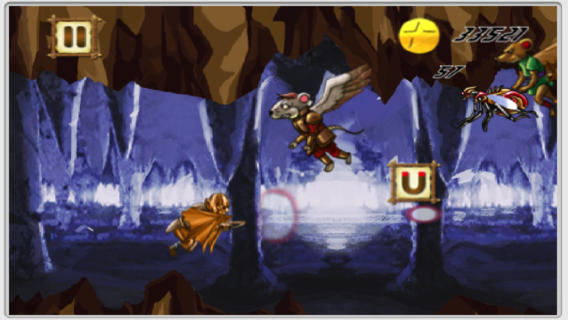 The gameplay really asks for some serious devotion because even if you blink your eyes for a moment, you might lose the game. It's really fast and it's the right speed so that you handle the game with as much respect as the developer has for it. Moreover, the graphics are appealing and hit you straight into the eye. The goblins and the creatures have been very neatly designed despite their complex structures. The background however, should be different. I don't know if it's the colour combination or the overall design, but it should be something more engaging. It should not just serve the purpose of a background cave, but add to the overall picture.
The app is available for free in the App Store. So make sure you do your part!
Pros: neatly designed graphics; past-paced addictive gameplay; free.
Cons: none.
Worth Having Application – Download the Application