This pandemic keeps our face covered with masks and also we are so cautious about going out with masks nowadays, What if a game asks you to mask the unmasked faces Yeah! The name of the game is "Mask on / Mask off" developed by OnceRed LLC. The team took this idea from this pandemic also donate their revenue from the advertising videos to the public. So it's an interesting game with a contributing nature.
The strategy used in this game is reflected in its name "Mask on / Mask off", Players have to mask the unmasked smiley face that appears in the square boxes. Looking simple but you have to play this within the time duration of every level. The duration of the level will be decreased gradually when we completing one round. Players have to mask rapidly to finish the level. At the end of every round, players are offered points, and using the points they can buy items from the game. These items can be used to increase the duration of levels, clearing out the blocked squares and complete a tough round.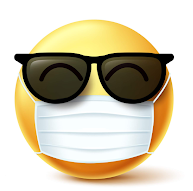 The unique colorful interface attracts the users and the different emoji icons like nurses, vaccines, and power pills make this game more exciting. Scoreboard which shows the levels you completed and the rounds yet to be finish and the points you got were placed at the bottom of the interface.
Players are asked to watch the advertising video present at the end of the game, the revenue generated from this ad will be donated to local food pantries and first responders. These funds are properly collected and shared with people who require support in this pandemic. Also, the players were offered 200 bonus points for watching this ad. This initiation is the first and unique approach to collecting funds. Mask on / Mask off, were highly appreciated on behalf of this by the public.
Gaming designed to give back is the premise of the Team OnceRed, and this work won cheerful ratings and reviews from gamers. May this game initiates a new trend of fund-collecting in this pandemic. The public support is the strength of any game and Mask on / Mask off got a huge amount of support from gamers.
Mask on / Mask off available in PlayStore for android mobiles with 4.1 or later versions to work with. Users were supported through info@oncered.com, feedbacks and reviews were highly appreciated.
Worth Having App – Download app today