Good food always comes with a good price tag. But it seems like our taste buds adjust themselves according to the place we're sitting at. So if we're sitting at a street corner with a plate of fast food, the taste will obviously be more satisfying as compared to a five star restaurant where even a full purse won't be enough for your appetite. So if you're a guy who's looking for value for money, it's better to stay at the local ones. But the problem comes when you're dining out with other people. For example, let's say that you've just joined a company and on your first day, you go out with your new colleagues for a dinner. Everybody orders his/her favourite but when the bill comes, you all split equally. No one argues to pay for his/her order only for the sake of calculation. If you're the one with the cheapest order, here's the rescue plan.
Fair Bill Split is an iOS app that has been developed by Martin Guerrero. The app is compatible with iPhone, iPod touch and iPad and requires iOS 7.1 or any later version of the OS. This app has also been optimized for iPhone 5.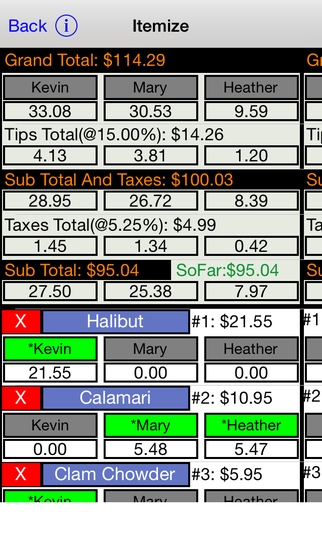 Fair Bill Split is the perfect app to help you calculate your bill in such situations. All you have to do is enter the details of your bill and there are preset options for tax and tip. Then enter the number of people who'll be sharing the total bill and there you have the per person amount. But in a situation where the bill is not to be equally shared but according to the order of each person, the direct division is not applicable. To cope with such a situation, the app has separate features where you can add as many as 24 people to a shared bill. Name all of them and add their respective orders. Then as per the corresponding tax and tip, your amounts will be calculated instantaneously. To make it easier for you to add the bill details, there is an OCR or photo-to-text app so that you can scan the bill and all the details will automatically be fed.
The app is very easy to use and one of the prime reasons for its recommendation. After all, you're using this app to save yourself some time after the waiter arrives with the bill and what's the point of using it if it's so difficult to understand. Also, the different items are coloured differently so that you can identify them easily.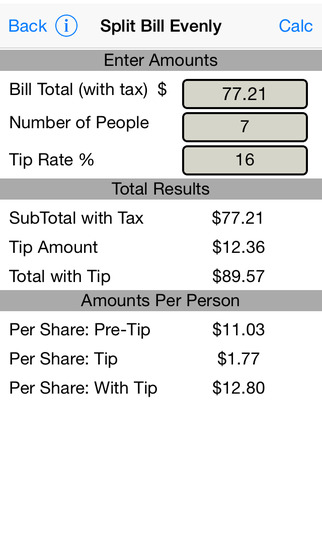 So, all I can say is that this app can prove very handy on any table in a restaurant. It's as simple as a calculator to use but can handle far more complex problems in real-life. So I highly recommend you to download it today from the App Store. It's available for free in the App Store.
Pros: intuitive UI; add up to 24 people in a bill; OCR for scanning bills; free.
Cons: none.
Worth Having Application –  Download the App