We have always seen chicken as a wise, calm and funny creature but the chicken attack is unlike any chicken in the world. This time it is a furious flying chicken trying to destroy an innocent flying turtle with its eggs and other destructive weapons. The war is set in the backdrop of various scenic areas. You can see the chicken unleashing its various powers to destroy the turtle and you get to play the role of the latter. With 40 levels of unlimited fun and thrill of the battle between the two deadliest warriors of the year.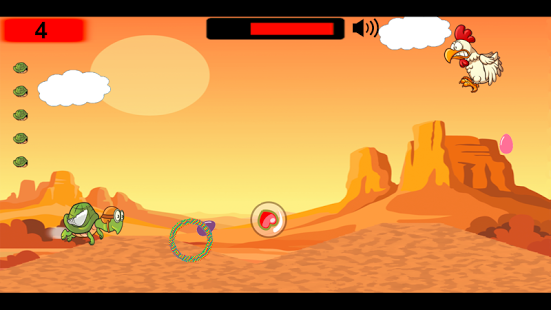 Colorful Graphics
Chicken attack has colorful graphics with the fly chicken laying different colored eggs that come flying towards the turtle. You can even enjoy different color theme in the background that is set in a desert. You as a turtle get to destroy the eggs and other objects that the chicken throws. So each time you destroy those objects, you can enjoy color filled effects on your mobile screen. You can also find yellow colored chicks flying around every now and then during the game. The colors are bright with HD clarity graphics that is quite immersive throughout the gameplay.
Weapons of Chicken
Apart from the colorful eggs that the chicken lays, it gets help from other special weapons. It throws flying rocks that comes your way and you have to escape the by flying over them. There are speed bombs that it throws which comes at a fast pace you must destroy them by throwing some kind of pebbles that are your weapon to attack the obstacles. Next, there are giant-sized colorful bouncing eggs that you need to either destroy or dodge them if you are really fast and good. The yellow flying chick also comes to the chicken's help by shooting eggs at you. So you need to destroy them too which is little tricky because these eggs are small and hard to target.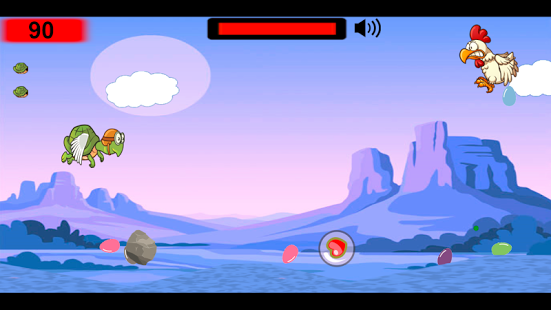 Bonuses for the Turtle
While the flying chicken gets some additional weapons as its help to destroy you, the turtle gets some amazing bonuses. There are ammo bonuses that keeps popping on the screen which you need to collect to increase your ammo stock. You will also get extra lives in between that you can collect. These bonuses help you clear your levels easily and progress to further levels.
Difficulty of Levels
The first couple of levels are pretty easy to clean and gives you a good hang of how to play. But as you progress through the level 5 and so on, the difficulty gradually increases. The number of eggs and other objects the chicken throws at you increases with every level. The speed of objects coming towards turtle increases too. So it gets really challenging after each level, which makes the game quite interesting.
Total Fun for Everyone
This game has several fun elements that make it ideal for kids as well as adults. So you can say this game is a complete family entertainer. It is quite engaging and surely improves your concentration skills and reflexes.
Worth Having App – Download the App