Droid Machine 2 app developed by Pr1sk8 is strongly proving to be a massive fun time killer that I am actually returning to in my leisure time, and it's one I suggest checking out if you wish to unwind but have a hard challenge at the same time.
Interestingly your key mission is to build a machine with physic entities to collide yellow elements. In the build area, you can build with rectangles and circles elements. You connect them with rods, 4 kinds of joints are available: weld, rotate free, engine clockwise, engine counter clockwise.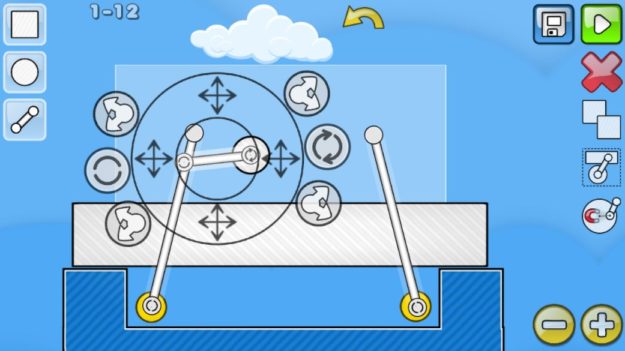 The faster, smaller and lighter you complete each of the levels, the more bonus points you receive.
Important Features of Droid Machine 2
Absolute Physics based game
Good Freedom of construction
Has Rectangle and circle elements
Rods with 4 joints type : weld, rotate free, clockwise, counter-clockwise
Offers MultiTouch Support
Multiple solutions for each level
High scores & Music
Not tracker, no ad
There is a tutorial and 8 stage of 16 levels each. Each level completed unlock the next one. The first 2 stages are unlocked at start. First in-app payments unlock all the levels and allow the access to the solutions of all levels. The second app-payment allows in addition unlocking an editor mode to create levels. It also allows saving solutions.
I'm a fan of Droid Machine 2 game app with several exclusive features. It is a pretty solid successful release and developers did splendid job with key aspects.
Here is the link to unlock the premium:
https://play.google.com/redeem?code=D5XMDBF3D8DNUK1FKSFRJ53
Verdict
Primarily I'm a huge fan of this kind of genre, and Droid Machine 2 game app falls right into that best category. It's been exciting, fun so effective and I can't stop using it for all purposes. So I recommend it for anyone who thoroughly enjoys qualitative game app.
DOWNLOAD FROM PLAY STORE: