Can you imagine a situation where you are fixed to a rocket and asked to cover a track full of death traps? It is quite impossible for human beings to imagine such a situation but this brave fox has done it and it is on its way to conquer the unknown and collect as much money as possible. Fox Tales: Rocket Run is the new game that people are talking about these days and it has been a smash hit from the time it was launched. The presenter of the game, Won-O-Soft has made a super hit game this time and you ought to give a try to the free game.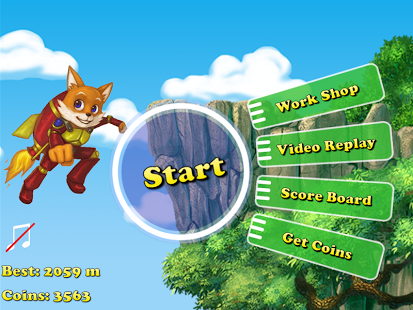 Fox Tales: Rocket Run is an endless running game in the path of death and the only control you can do is to fly or stay on the land. There are blades that may cut you, there are birds which can destroy you and there is fire which can burn you. You have to ditch each of them and move as long as you can. You can touch the gravestone of your friends and you will be immortal for some time. You can touch a maximum of 3 gravestones in one run. So give it your try and see how far you can go in the rocket run.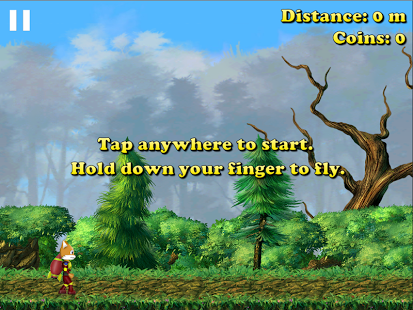 Features:
Fox tales: Rocket Run is an endless running and flying game where you have to help the fox travel as much distance as possible.
The game has one touch control which means your finger can control the game. If you put your finger the fox will fly higher and higher on rocket and when you take it off, it will get towards the ground.
You can earn coins through the way and use those in the store.
There are several difficulties on the way that can cause death. There are running blades, birds and more such enemies that you require combating.
There are several power ups to procure during the game. You can also buy some of them from the store.
The app has online leader board where you can see your position.
The free app is available for android users with android 4.1 or later.
The name of the fox is Kizu and it is a cute little one.
The fox is Kizu and it is a cute little one.
You will have to spend around 42 MB space on your mobile to download the app.
The sound track of the game is also quite good. You can choose to put off the sound track if you get disrupted by it.
Summary: Fox Tales: Rocket Run is a fun action game where a crazy fox Kizu is fitted to a rocket and is asked to fly and run to collect as many coins as possible. The path is full of death traps and the control is one touch in the game.
Good: The visual of the game is really quite good.
Bad: The app has no negative reviews till date.
Worth Having Application –  Download the App