Celeb Poker is a new poker card game app released by Viaden for iOS devices. While there are various poker clients available for the platform, Celeb Poker Free prides itself on being the poker client with the fastest response and a large poker community which you can play with. Celeb Poker, as its name suggests, makes you feel like a real celebrity when you're at the table, which says quite a bit about the app.
Celeb Poker offers the standard Texas Hold'em and Omaha High poker game formats. And that's about the only thing it has in common with the other poker apps out there which let you play poker for fun without using any real money. You can get some practice and hone your skills at poker while not risking any money from your pockets, and in a well-designed and pleasant user interface, with a surprisingly quick network response time which makes the game play an absolute pleasure.
Secondly the app has been designed keeping sociability in mind, and is not just a standard poker game, but an entire poker community that you get to be a part of. Sharing your achievements on Facebook and Twitter are integrated, and the game gives you bonuses when you bring your friends in to join.  Celeb Poker also lets you create avatars for yourself, which can be further customized at any point. You have the opton of liking a particular player, add someone as a friend, and even gifting something to a friend. You can even buy somebody a drink at the poker table. Can't get more sociable than that now, can it?
Since the game is made up of a real poker community, which comprises of people who love their poker, more often than not you would notice that people actually care about their hands and play a serious game, even though it is only play-money at stake This makes the game a lot more interesting as well as challenging, considering its real players out there that you are pitted against.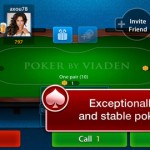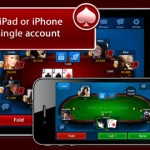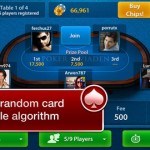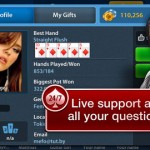 Every time you win a game you are awarded with a bunch of titles and achievements which you can share with you friends. The realism in the app is evidence that the developers have really put their heart and soul into designing every small part of the app to perfection. Even the card shuffle seems so realistic that for a moment you think you are actually sitting at a real poker table. The game offers special deals on chips and there are several competitions that you can participate in. And yes, you can also take part in international competitions and pit your poker skills against the best in the world. IntegratedGamecentre leaderboard system helps you check out how you stack up against the best of the best, and you can share your ranking with your social networking friends as well.
And then there is the customization that the game offers. You can customize and select a poker table based on your preferences, as well as create your own unique avatar and profile that other players will know you by. And of course, if you have any questions or need any help with the app, the team offers live 24/7 support, which is quite impressive.
Overall Celeb Poker Free is a well thought out and well-designed app which brings a fresh feel to play-money poker game clients available. If you like free poker, with a good bonus system and sociability options, you should try out Celeb Poker Free. Celeb Poker Free can be downloaded for free from the App Store and is compatible with the iPhone, iPod touch and iPad running iOS 4.3 or later.