If you like games that are fast-paced, full of risks, adventurous and furious, you've come to the right place. It's time for you to rediscover your rapid reflexes and test your speed, agility and fortitude. iOS app developers Steampunk Wizards are here to fulfil your wishes with their latest app 'Bungee Mummy: Challenges'. If you have the determination and the will power to keep going in the midst of hundreds of challenges, this game is for you. This is one game that will challenge you like never before
Bungee Mummy: Challenges is a sequel to the super hit game Bungee Mummy: King's escape. While it does match its predecessor in a number of aspects, it takes the series to a whole new level of entertainment and adventure. In this game, you will be required to complete numerous mini games with an aim to top the leader boards.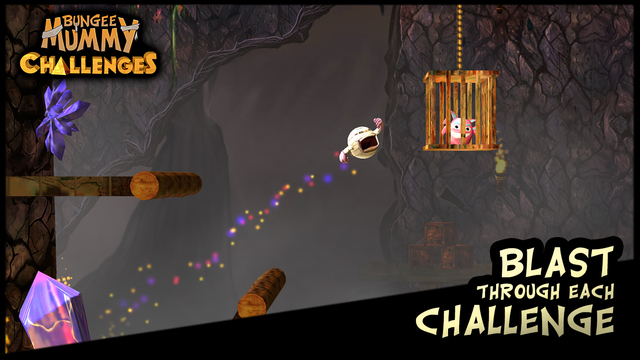 This game is really gripping and addictive right from the very beginning. There are four challenges to master- each unique in its own way. The first adventure- Snake Smash- requires you to create hit combos against the click by destroying scorpions and snakes. You must save the Geemies while targeting the others and hunting them down. The second challenge is Crate Escape. This challenge is a test of your accuracy. You have to drop crates containing important supplied into moving mine carts. If you drop them correctly into a cart belonging to a Geemie, you earn extra points.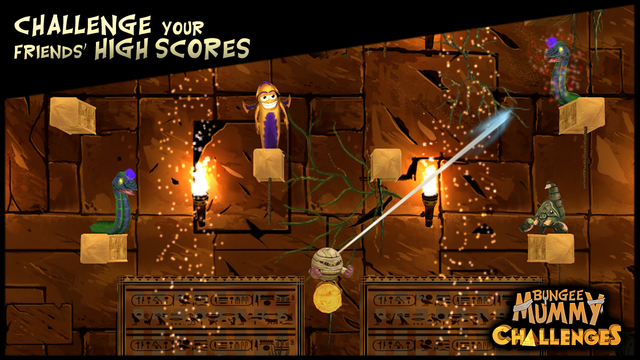 The third challenge- Bungee Blast- is where the game lives up to its name. Your bungee jumping skills are tested here. You have to propel yourself into cages, setting the trapped Geemies free. To make it more challenging, there are a number of boulders placed on your way. Hitting these can prove to be fatal. The Wheel of Misfortune- the fourth challenge- is an all-round test of your skills. Your aim is to collect gold scarabs, while avoiding the cunningly hidden booby traps.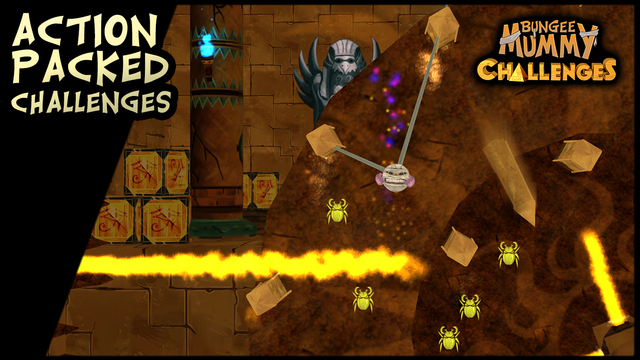 Besides scoring well on the gameplay and challenges, this game also scores highly in terms of graphics. The fun graphics add an appealing touch to the game. The developers have designed the game with an arcade-style look and feel. The game layout and navigation are simple and easy to pick up too. The screen does not feel cluttered but is quite user friendly and intuitive. You will not end up wasting time figuring out the settings, features or controls of this game.
Bungee Mummy: Challenges is a thrilling game that involves a good amount of simple physics. It takes you through a number of dangerous arenas, putting your skills to the test. Tasks that may seem easy at first turn out to be more challenging than you can imagine. You can also challenge friends to a score duel and show them what you've got.
This iOS arcade game is available for free download in the App Store. All you need is an iOS device with iOS 7.1 or later and 93.7 MB of free memory space. It's time to out your skills to test and challenge yourself.

Good: Arcade style graphics add to the feel of the game
Bad: None
Worth Having App – Download the App